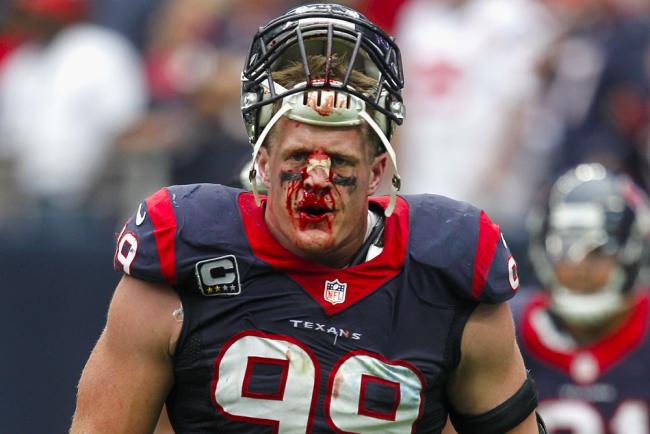 Not that anybody was doubting the toughness of Houston Texans defensive end J.J. Watt before, but Watt is going to play this weekend's game against the New England Patriots with a broken hand. Word came out of Texans practice on Thursday that Watt had a cast on his left hand. However, Aaron Wilson of the Houston Chronicle noted that Watt's streak of 76-consecutive starts likely wasn't in danger.
That, plus the extent of Watt's injury, was confirmed later by Watt and Texans head coach Bill O'Brien:
It's not clear just how bad the injury is, or exactly how he injured it, but it's obviously not bad enough to keep Watt from doing his damnedest to get Houston to the playoffs from here on out. Watt leads the NFL with 13.5 sacks. At 6-6, the Texans are tied with the Colts for first place in the AFC South. Beyond Sunday's game against New England, the final three games for the Texans are against divisional opponents. (The Patriots, meanwhile, have lost two-straight games after starting the season 10-0.)
How this affects Watt's chances with Jennifer Aniston or Tiffani Thiessen or Lindsey Pelas remains to be seen, however.
(Via John McClain)