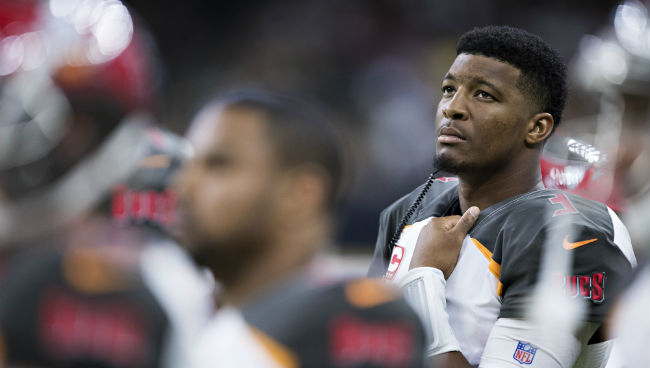 Jameis Winston may once again be in trouble, this time for allegedly groping a female Uber driver. Buzzfeed is reporting the Tampa Bay Buccaneers quarterback is under NFL investigation for an incident with an Uber driver in 2016.
Winston allegedly grabbed the crotch of a female ridesharing driver, and the NFL is reportedly investigating the incident. Buzzfeed News reported Friday that it had seen a letter the NFL sent to an Uber driver who picked Winston up in Scottsdale, Arizona, around 2 a.m. in March of 2016.
The letter, in part, says that "the League has been informed that you may have been the victim of such a violation perpetrated by Tampa Bay Buccaneers player Jameis Winston. The League takes allegations of this nature very seriously and has opened an investigation into this matter."

The diver also spoke directly to Buzzfeed and described the incident, which began as a late-night pickup of a group of young men who excitedly told the driver, Kate, that she would be driving someone famous: Winston.
The men placed Winston in the front passenger seat — Kate said he was the only passenger. "I started driving, and right away, Jameis behaved poorly" by shouting, in part, homophobic slurs at pedestrians, said Kate, who did not want to be identified for fear of negative attention and potential backlash from football fans. He then asked to stop for food.

Waiting in line at the drive-thru of Los Betos Mexican Food, "he reached over and he just grabbed my crotch," Kate said, alleging that Winston held his hand there for three to five seconds and removed it only after she looked up in shock and said, "What's up with that?"

"I wasn't just creeped out," said Kate, who had been driving with Uber for more than two years at that point. (She no longer drives for the service.) "I was frozen." She described Winston as "very physically imposing."
The driver said she "completely froze" when Winston touched her and was worried that she might provoke an unwanted reaction from him.
Winston was investigated for an alleged sexual assault while he played at Florida State, and he had some less than stellar advice for girls when visiting an elementary school last year.
Winston responded with a statement that ESPN's Adam Schefter shared on Facebook on Friday.
https://www.facebook.com/AdamSchefter/posts/1682021715183796
Winston, in part, showed sensitivity to the growing attention that inappropriate sexual advances and attacks have seen in recent weeks, but claimed that the allegations against him were false.
"I am supportive of the national movement to raise awareness and develop better responses to the concerns of parties who find themselves in these types of situations, but this accusation is false," Winston said. "While I am certain that I did not make any inappropriate contact, I don't want to engage in a battle with the driver and I regret if my demeanor or presence made her uncomfortable in any way."
What matters now, though, is whether the NFL or other authorities act on the allegations as a result of any investigations.