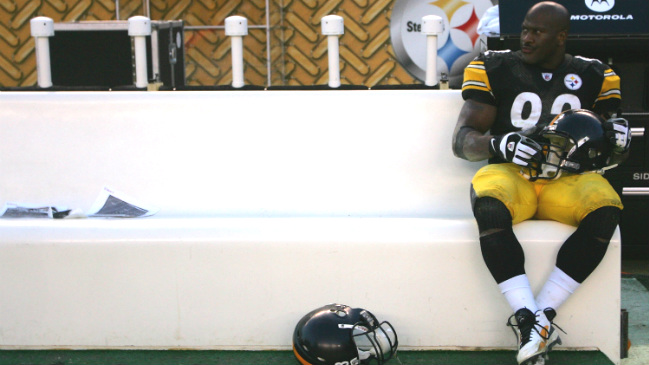 In a surprise move, James Harrison joined the New England Patriots on Tuesday. Harrison was one of the faces of the Pittsburgh Steelers' franchise, even though his production had fallen off dramatically this season, which made the news that he would leave one AFC juggernaut for another such a shock. The move also came on the heels of a controversial game between the two teams which saw New England come out on top.
It seemed like the kind of thing that would be a tough pill to swallow for those in Pittsburgh, as Harrison is among the most feared pass rushers in Steelers history. And as we learned on Wednesday, at least one of his now-former teammates was really upset about the move.
Pittsburgh center Maurkice Pouncey met with the media and was asked about Harrison's decision to head to Foxborough. Unsurprisingly, the offensive lineman wasn't exactly stoked about the move, going as far to say that Harrison's move blew his mind and that joining the Patriots "erased his own legacy here."

Pouncey also went as far as to say that Harrison "wanted out" of Pittsburgh, saying "If you didn't want to be here, just come out and say it. Don't make it look like it's the team's fault. You think the organization wanted to get rid of James Harrison? Let's be serious."
It remains to be seen if Harrison will fire back at Pouncey, but one thing is for certain: If New England and Pittsburgh face off in the postseason with a trip to the Super Bowl on the line, there will be more bad blood than usual on display.