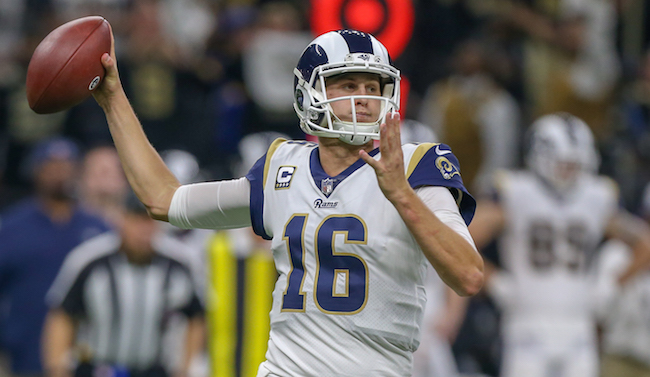 UPDATE: The numbers are in on Jared Goff's new deal, and the Rams will take care of their quarterback in a big, big way. Not only is Goff going to get $134 million, per a report by Ian Rapoport of NFL Network, but his $110 million in guaranteed money is the most in history.
EARLIER: Jared Goff is cashing in on his prolific 2018 campaign in a big way. According to multiple media reports, Goff and the Los Angeles Rams are going to agree on a lucrative contract extension that will keep the 24-year-old signal caller as the face of the franchise for the foreseeable future.
According to Ian Rapoport of NFL Network, the two sides have kept getting closer and closer to the finish line on a deal that will lead to the Rams giving Goff the most guaranteed money in the history of the NFL.
Adam Schefter of ESPN chimed in to confirm not only that a deal is on the horizon, but that it's essentially done at this point.

Despite how his season ended with a brutal performance in his first Super Bowl, Goff was one of the best quarterbacks in the league during 2018. He put up major numbers orchestrating Sean McVay's offense in the City of Angels, completing 64.9 percent of their passes for 4,688 yards, 32 touchdowns, and 12 interceptions en route to the second Pro Bowl selection of his career.
Of course, his performance in the Super Bowl will leave a bad taste in the mouths of many, but Goff has put up serious numbers the last two years and there's no denying that he's done a great job in Los Angeles so far. The quarterback market requires that teams invest big money in their signal callers, and as such, Goff is in for a monster payday.