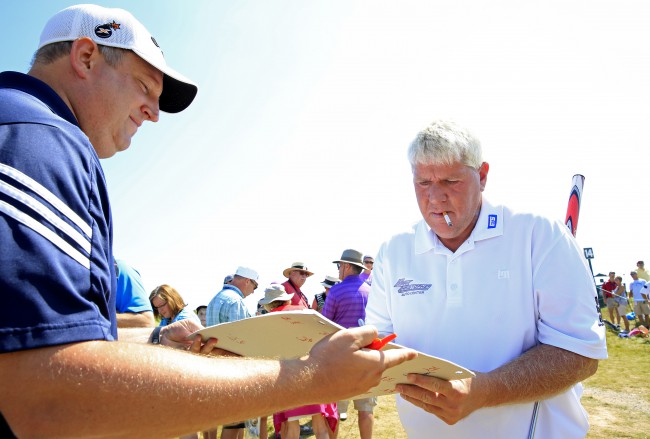 This is certainly a scary moment. Golfer John Daly had to be taken to the hospital on Saturday after collapsing on the 18th tee at the Deerfield Country Club. According to an initial report from Pat Forde of Yahoo!, Daly was admitted to the Baptist Medical Center in Jackson, Miss. Forde's initial report said dehydration was the likely cause of the collapse. However, the Golf Channel noted on Sunday that Daly had in fact sustained a collapsed lung. Here are more details from the Associated Press:
Deerfield club pro Leigh Brannan, who was at the tournament, said Daly was having trouble with the heat and had some difficulty breathing before being taken to the hospital. Temperatures were near 90 degrees in the Jackson area.

"He was struggling pretty badly right before he collapsed," Brannan said. "But we're all hoping it's nothing serious and that he was just a little dehydrated. He was even telling (Allen) he still wants to play (Sunday)."
According to a statement from his manager "Daly has fought a lingering rib injury since 2007 which recently has been causing severe pain and has affected his breathing." The statement from Daly's rep also noted that the 49-year-old has already been discharged from the hospital.
Daly hasn't participated in a PGA event since missing the cut at the Championship earlier this month—a tournament in which he notably threw one of his clubs into a lake out of frustration. Here's guessing he'll need some time to recover. Thankfully, it appears he'll be alright.
(Via Yahoo! Sports, Associated Press)