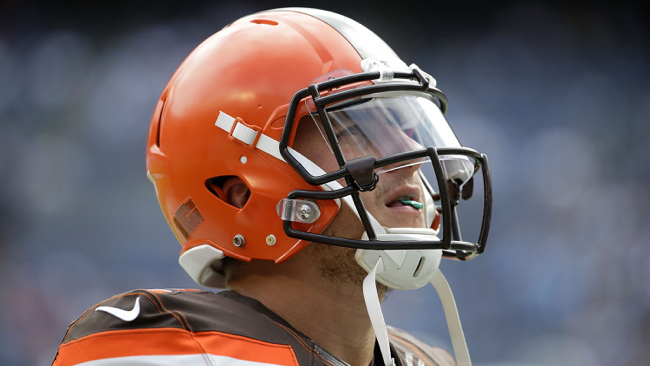 I think it's safe to say that there is a clear line between playing through pain and potentially risking your overall well-being (or life, for that matter) when it comes to football. This is especially true in today's NFL regarding injuries, including concussions. The latest player to be diagnosed with a concussion is none other than Cleveland Browns quarterback Johnny Manziel. The second-year quarterback, who has been Cleveland's starter for the past three weeks, was diagnosed with a concussion on Wednesday, just a few days after a 17-13 road loss to the Kansas City Chiefs. The diagnosis automatically puts Manziel on the NFL's concussion protocol list for Week 17.
The Cleveland local media, who's had the joy of covering a tumultuous, frustrating and painful to watch 3-12 season, was able to float an interesting quote about Manziel's concussion while discussing the news. Je'Rod Cherry, former New England Patriots defensive back and current ESPN Cleveland radio host made an eyebrow-raising quote about playing through concussions.
There are several things wrong with this. First and foremost, Manziel has to take various steps that are included in the concussion protocol to even be considered ready to play. So technically speaking, Manziel doesn't have the ability play if he tells the coaching staff that he's able to play given that he hasn't fulfilled all of the necessary medical requirements put in place by the protocol.
Second, and probably more importantly, this is the exact opposite type of mentality the NFL needs from former players regarding injuries, but especially concussions. With all the various settlements, lawsuits and not to mention the Concussion movie that just came out citing the NFL's attempted cover-up of what the sport does to the human brain, this will likely make some NFL officials cringe, depending on how many people Cherry's quote reaches.
As for Manziel and the Browns, look — they're 3-12, and the quarterback is basically auditioning for his next landing spot at this point given how things have played out during the season. There's absolutely zero point in playing Manziel if he isn't 100 percent on Sunday.