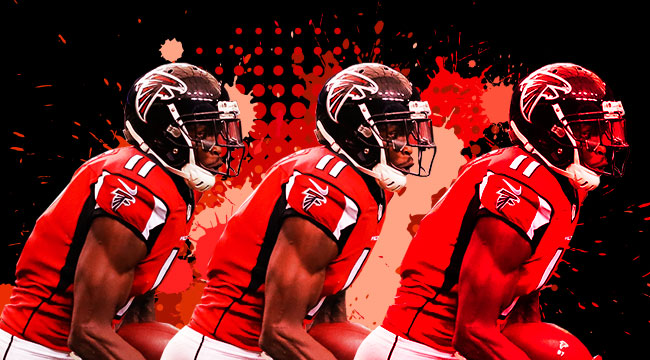 In which we pick the one player (or coach, or equipment manager, or mascot, or drunk fan) who made the biggest impact on NFL Sunday — the one who gets people talking the most, in a good way.
There might be no more fun debate around the NFL from year to year than the title for the game's best wide receiver. Sometimes, a star burns so bright that consensus can't help but form — Calvin Johnson's peak, Randy Moss's before that — but often, it's a couple of guys whose dominance is just the preferred flavor of some rather than others, like Terrell Owens versus Marvin Harrison. The past two years, we've delighted in two main players once again in Antonio Brown and Julio Jones.
Oh sure, the likes of Odell Beckham Jr. and (especially) A.J. Green deserve periodic consideration, but Brown and Jones are like evolutionary forms of Owens and Harrison — Jones is faster than T.O. ever was, and might be just as strong, and Brown is more of a deep threat than Harrison ever was, with hands just as sticky. They're completely different animals, and both are unstoppable, and you could pick either one as the best wide receiver alive without raising any eyebrows. That being said, Julio staked one hell of a claim on Sunday.
Julio went for 12 catches and THREE HUNDRED DAMN YARDS to lead the 3-1 Falcons over what was supposed to be the best team in the NFC South, the 1-3 Panthers. Atlanta's defense looks a shade above miserable, and most importantly, the offensive line seems to have improved enough to keep Matt Ryan upright and feeding his beast on the outside. Julio had been waiting to truly break out this year, and the Falcons beating the Saints with him only catching one pass last week was one of the biggest surprises of the season. In fact, we'd say a 1-16 line for Jones is more surprising than a 12-300 day. That's just the kind of player he is.
Does this settle the debate about who the best receiver in the NFL is? Hell no. Antonio has already had two games with at least eight catches and 120 yards, and he'll have a few more before the year's out. Brown gets more commercials because he has a gigawatt smile and because the Steelers are more consistently good, but he and Julio will be trading blows in their fight for the title belt all year — and into the future. Meanwhile, look out for the Falcons.
Other Week 3 Winners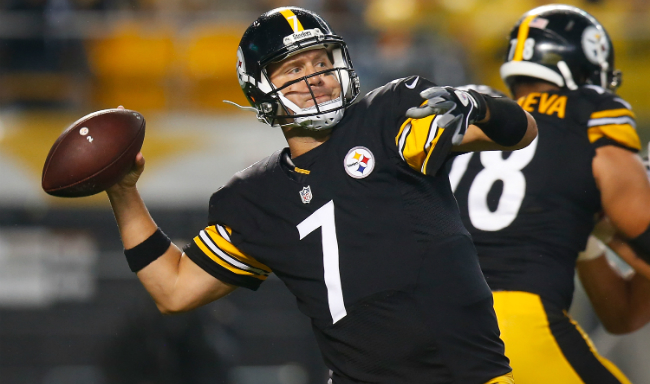 The Steelers offense: Anyone who sat through that mauling of a prime time game between the Steelers and Chiefs came away with the same notion: Pittsburgh's offense is the scariest in football. Brown only needed four catches on a night when Ben Roethlisberger passed for five touchdowns. Le'Veon Bell returned in a big way, the Steelers' non-Brown receivers showed they can beat pretty much anyone deep as well, and as long as the offensive line keeps Big Ben's jersey fairly clean (no small task), this group can outscore anyone. Sure, the game might have lacked any drama, but did you see that first quarter? My goodness.
Will Fuller: Though his hands remain just as much of a crapshoot for the Houston Texans as they did when he was at Notre Dame, Fuller has proved through four weeks of the season that he is already one of the fastest players in the NFL. I mean, he's gone in a blink here:
That punt return proved to be the decisive score in a division match, and it came on top of Fuller's second touchdown reception of the season. He ranks among the league leaders in receiving yards, and that's even with laying an egg with the rest of the Texans' offense against the Patriots in Week 3.
It takes more than pure speed to take the top off a defense like Fuller does — he's also got elusiveness. If he can ever improve his hands, he could become one of the best players from this year's draft class. As it is, he's already making a name for himself as a serious danger to opposing defenses.
Aaron Donald: The St. Louis Rams are 3-1 despite taking three weeks to score a touchdown, and it's their defense that has led them to this point. Stand-in QB Case Keenum has settled in while keeping the seat warm for Jared Goff, but the Rams' ferocious front seven is giving him short fields to work with — and with J.J. Watt out for the season, Aaron Donald might finally have his coming out party. He's the best pass rusher from defensive tackle since Warren Sapp, and Pro Football Focus called him literally the best player in the NFL last season because he's so far ahead of his position's peers.
Donald had two sacks and a forced fumble against Carson Palmer, and with the Cardinals languishing at 1-3, the new-location Rams are in a surprising tie for the division lead with the Seahawks. As the Broncos proved last year (and the Giants did twice in the last decade), all you need is a pass rush and you can be a contender. With Donald, the Rams have that in spades.