When you ask June Jones how he ends up on teams that seem to be in the most need when he gets there he's about as straightforward as you get. In what seems to be a mix of personal choice and fate these are the situations that draw him in, a perennial fixer of not-so-successful football teams.
"Those kinds of jobs I've always had," states Jones flatly. "Every job I've had, and I kinda take these jobs, I do things a lot differently than a lot of places. Those places are in disarray when I get there and I don't get the objections quite as much."
And with the latitude he gets, he's walked into seemingly broken situations and made winning happen pretty quickly. His track record is proof positive.
Jones has experienced a few locker rooms in his coaching career that have been less than successful for sure but walking into Tim Horton's Field, home of the Canadian Football League's Hamilton Tiger-Cats, in August was a new one for him. He was initially hired on to be an assistant coach but would later be named the interim head coach three weeks later after then head coach, VP of Football Operations Kent Austin, decided to step down and focus on his front office role.
If that wasn't enough to set up a near desperate situation, at the time the team was also reeling from an announcement that they were hiring former Baylor head coach Art Briles shortly after he was fired for a player conduct scandal at the school the previous year. The public and league outcry over his hiring was so loud that the Tiger-Cats eventually rescinded the offer to him days later calling it a mistake and issuing apologies.
https://www.youtube.com/watch?v=w3q2iWKweXg
When the dust settled Jones was looking at a team that was 0-8 on the year and had only won a single game in the last fifteen stretching into the previous season.
This job could have been a pass for just about anyone available. Winless about midway through the season and a huge image issue for the team, it couldn't possibly get any lower than this. The Tiger-Cats are the lone professional team in a very blue collar city and this was about as big a blemish it has had to their proud tradition. This is what bottom would look like.
But this is where Jones most comfortable starting – at rock bottom. It's what he does.
When Jones took over the football program at the University of Hawaii, the team was on an 18-game losing streak that included a winless 1998 season. During his tenure, he piloted the Rainbow Warriors to a 76-41 record over nine years including three 10-plus win seasons and six bowl games of which he won four.
Jones left Hawaii in 2008 and moved to Southern Methodist. Before arriving in Dallas, SMU was still recovering from the NCAA's "Death Penalty" after a booster scandal in 1987 and in that 19-year period before he arrived the team was 58-153-3 with one winning season. Jones spent seven seasons at the helm of the Mustangs and after a 1-11 season to start he eventually took them to four straight bowl games, winning three, before resigning after two games in 2014.
Wherever Jones has gone, there was success created out of seemingly difficult circumstances, even if that success isn't permanent. Again, it's just what he does.
But the professional level can be a little different from the college level. Egos and paychecks can get in the way of doing what's best for the team. When Jones was the head coach of the Atlanta Falcons, he went from the playoffs in 1995 to 3-13 in 1996 and a very publicized in-game shouting match with his then QB Jeff George on the sidelines. He was let go after three seasons with the Falcons and later was hired as interim head coach for the San Diego Chargers in 1998 for ten games. His stint with the Chargers was his last at the pro level before he went into the college game.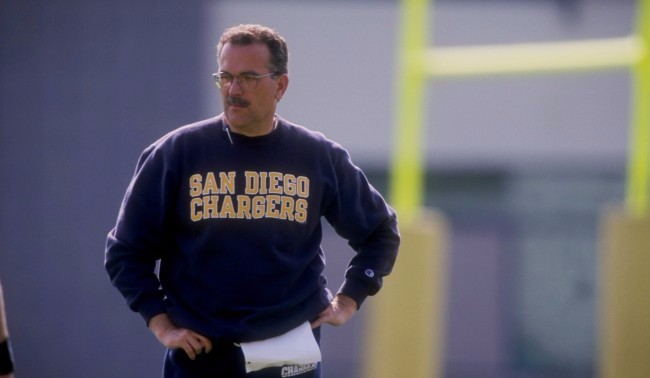 So why move back into the pro game now? For Jones, it was a matter of timing.
"I knew two of the coaches in Hamilton when I worked with them at Hawaii and SMU, " he says. "They had asked me a year ago if I'd come up and help but I was working at a high school in Hawaii at the time. When that time ended they called me again and the timing was right."
Jones likens Hamilton to where he grew up in the Pacific Northwest. Originally from Portland, Ore., there are some similarities to both the cities. Both are key shipping ports. Both are important centers of the steel industry. Even the weather is very similar in both cities. The sense of the familiar in Hamilton may have been there just as much as the situation he was taking over.
When it was announced that Jones was going to be the head coach on Aug. 24, the Tiger-Cats were coming off their 0-8 start, which was highlighted by a 60-1 loss to the Calgary Stampeders on July 29. With no time to do an overhaul of anything, he set about making some slight tweaks to the current offense. The changes paid dividends immediately. The team was averaging 15.8 points per game before he took over and through the final ten games that doubled to 29.5. Three players would close their seasons with over 1000 yards receiving and the quarterback that he chose to go with during his run, Jeremiah Masoli, threw for over 3100 yards and 15 TDs with a 63.7 percent completion rate in 12 games. Pretty impressive considering the sputtering numbers before he took over.
"I tried to bring in the concepts that I've always worked with," Jones says. "We could only implement a fraction of (the run and shoot offense) because we came in after training camp I was still able to add some concepts to the team's (existing offense). The kids bought in, they understood and listened and had success. It's amazing we went 6-4 in my ten games and in the four losses we had the ball in our hands with a chance to win all of those."
The key thing that Jones talks about in his brief tenure as head coach this season was the change in team's attitude from when he first got there to when the season ended. With an unusually weaker CFL East Division, there was a possibility that the team could have made the playoffs, but a few tough losses late in the season shut the door on a fairytale ending.
"I think if we made the playoffs this year would could have (been champions)," the fiery coach says. "The difference the first two weeks and the last two weeks was off the charts. We were playing the best football in the league and once you get to the playoffs and the Grey Cup championship, anyone can win it."


After the final game horn sounded in early November for his team, Jones now has decisions to make. He has definitely started something in Hamilton and one can only wonder what he could do fully implementing his offense with a team from the beginning of the season in a football league that has more emphasis on throwing the ball. Jones certainly feels the pieces are there for a very good run in the coming year.
The team is reportedly trying to bring him back, likely on a multi-year contract and after the turnaround he helped orchestrate in the second half of the season, it's hard to argue against it. Alternately, the success he helped create likely has suitors vying for his services in some capacity or another for a team or program (maybe even back at the college level) in need of a jumpstart.
He's still mum on what his plans are for the coming season only saying that he's weighing out a few options. You can bet that whatever situation he walks into for next season it will be something that's in need of a rebuild starting from the ground floor.
It's just what he likes and what he does. And he does it well.