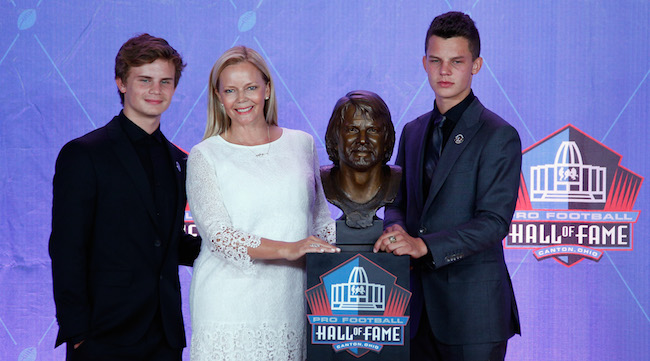 The NFL is seemingly constantly embroiled in some sort of controversy, but their latest is maybe its strangest. For any other company in the world, it should also be the easiest to fix. Knowing their propensity to deal with controversy in all the wrong ways though, you probably shouldn't hold your breath.
News broke this week that the Pro Football Hall of Fame (overseen by NFL commissioner Roger Goodell and seven NFL owners) does not award deceased inductees the full package of trinkets that normally comes with induction to the hall. Posthumous inductees do receive their customary bust, to be displayed in the Hall, but their families do not receive the ring and gold jacket awarded to each living member of the Hall.
This news trickled out after it was noted by Kendra Stabler Moyes, daughter of late Raiders QB and 2016 Hall of Fame inductee Ken Stabler. The Hall's official Twitter account tweeted a picture of the ring awarded to living inductees from the Chicago Bears.
When questioned about Stabler's ring, Kendra tweeted that her family and father won't be receiving a ring.
She then followed up by confirming that the estate won't receive a coveted gold jacket either.
After her tweets picked up steam, Kendra mentioned that she would continue to fight for not only her father's recognition but the rest of the members who were inducted into the hall posthumously as well.

The controversy has garnered plenty of attention, especially ahead of the Raiders' huge game with the Broncos which will be the marquee matchup of the weekend on Sunday Night Football. Current Raiders coach Jack Del Rio even chimed in.
As well as former Raiders CEO Amy Trask.
The Hall of Fame has had controversy involving deceased inductees before as well. When Junior Seau was enshrined in 2015, his daughter Sydney was not allowed to give a speech in his honor, which obviously upset many. She was allowed a quick on-air interview during the telecast and eventually released her speech to The New York Times.
Stabler's family went through a similar process, with no speech but an on-air interview shortly after he was enshrined. So while the jacket and ring should be an easy fix, the Hall did nothing to rectify that problem last year and probably won't fix this one this year, public pressure be damned.