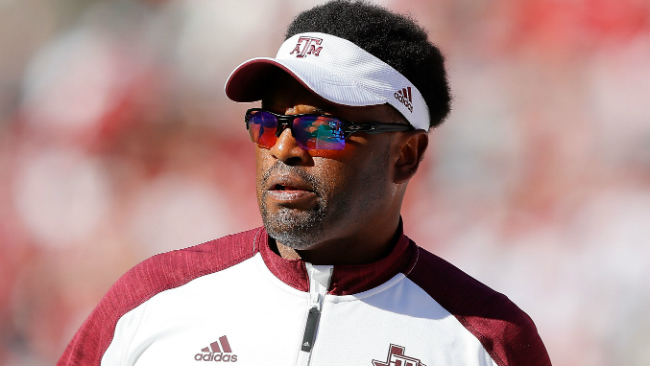 Kevin Sumlin has had the ire of Texas A and M fans in recent days, but one "fan" went way too far in their criticism of the Aggies head coach. Sumlin's wife, Charlene, posted a letter that her husband received that referred to him with a racial epithet and told him to "please get lost." (Warning: The image contains not safe for work language.)
Sumlin came into the 2017 season on one of the hottest seats in college football, as the Aggies have finished 8-5 in each of his last three years and are stuck in the middle of the SEC West. The criticism of Sumlin was amplified on Sunday, when Texas A&M blew a 34-point second half lead to UCLA and fell to the Bruins, 45-44. It was a thrilling game for non-Aggies fans, but for Sumlin, it was the kind of thing that gave his detractors more room to call for his job than they had before.
Still, there is a pretty well-defined line between criticizing someone's ability to coach in a way that can be considered fair and using racist language against them. Hell, it's not ok to use racist language against anyone, and taking the time to hand-write a letter to someone so you can call them the n-word is disgusting. This seems obvious, but the person who wrote this to Sumlin apparently doesn't agree.