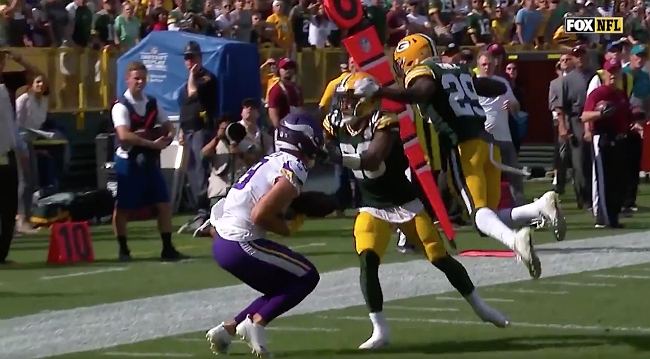 The term "seeing-eye" is usually reserved for hits in baseball that squeak past two infielders unable to range to the ball before it hits hte outfield. But what Kirk Cousins did on Sunday could definitely be categorized as a seeing-eye touchdown.
Cousins threw a dagger between three Green Bay Packers defenders on Sunday in the dying seconds of a game that forced overtime in Minnesota in Week 2. Trailing 29-21 late in the fourth quarter, Cousins found Adam Thielen by the goal line on a pass that got the Vikings in position to tie the game.
The Vikings were faced with a 1st and 10 at the Packers 22 with 36 seconds left in regulation when Cousins took the snap and immediately saw pressure. He got rid of the ball right before getting crushed with a rush up the middle, but the path the ball would take to Thielen was equally precarious.
Somehow, though, the ball split cornerback Jaire Alexander trailing Thielen and got there just before safety Kentrell Brice could close the gap to break up the pass. Somehow, though it looks impossible from the initial angle, the ball got to Thielen just before the goal line, and he tumbled in for the touchdown to make it 29-27.
Cousins then found Stefon Diggs for the two-point conversion to tie the game and inevitably force overtime after the Packers missed a field goal at the end of regulation.
It was Cousins' fourth touchdown of the day in what proved to be a strong duel between he and Aaron Rodgers. Earlier in the game, for example, Cousins hit Diggs for a monster 75-yard touchdown pass.
The Packers had a game-winning field goal pulled off the board as time expired in regulation because of a late timeout, resulting in Mason Crosby pushing his next attempt wide. After that, for the second straight week, an entire 15-minute overtime period went by without either team scoring, leaving the Packers and Vikings with a 29-29 tie after some awful kicking late in the game.
Vikings kicker Daniel Carlson missed a pair of field goals wide to the right, including a 35-yard attempt with four seconds to go in the overtime period to preserve the tie and cause Cousins' heroics late in regulation to simply keep the Vikings out of the loss column, but not put them in the win column.