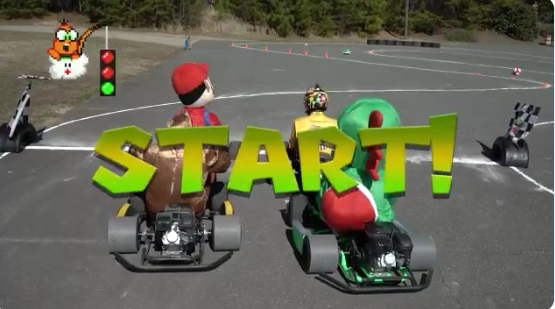 The start of the NASCAR season is here as the best drivers in the sport have descended on Daytona for the week-long festivities leading up to the Daytona 500 on Sunday.
While they got ready for qualifying and the Duels, there was still some down time at home for the likes of Kyle Busch to have some fun with the family. NASCAR drivers tend to have lots of motorsport related toys at their homes and tracks to race them on with friends.
At the Busch household, he has a bevy of go-karts and decided to do a fun video with his son in the lead up to Daytona week. Busch had three of his friends dress as Mario, Donkey Kong, and Yoshi and put on his racing gear and created a real life Mario Kart at home, because why wouldn't you.

I think everyone that's ever played Mario Kart has one day dreamed of doing something like this, and, while I know pro drivers have social media teams to help them, it's a pretty impressive video as far as the effects go — and the commitment of everyone to spin out at the right times. One day someone will come up with an actual Mario Kart experience at one of those go-kart places and make millions with digital items that, when thrown cause the cart targeted to spin out.
For now, we'll have to play the game whenever and wherever we can and live vicariously through Kyle Busch and his friends getting bored and trying to make some viral content.