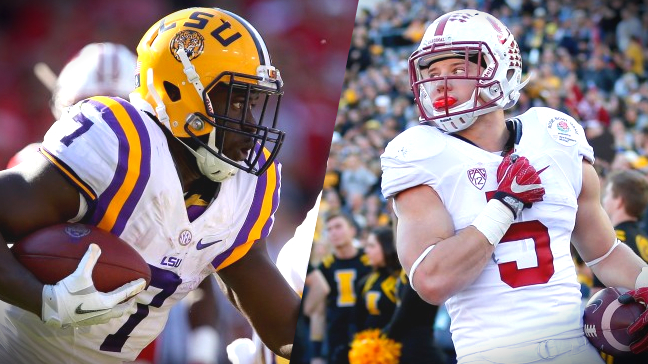 People are still really mad at Leonard Fournette and Christian McCaffrey for skipping their bowl games to focus on going pro. Like, really mad. So mad that they're tweeting mean things at these talented athletes as if Fournette is going to stop what he's doing, apologize to LSU fans, and agree to play in the Citrus Bowl, his bad ankle be damned. Or McCaffrey is going to wise up and realize that it's his "obligation" to give it his all in the Pampers Who Gives a Duck's Fart Bowl. Sorry, I mean the Sun Bowl.
While the hot-takers were wearing out their keyboards, chastising these kids for wanting to be healthy and earn a lot of money, no one made a bigger impact in the debate than eventual NFL Offensive Rookie of the Year and possible MVP Ezekiel Elliott, who pined for one more game with his brothers.
So sweet, like candy. Give me more.
Ah yes, the ol' alma mater and love of the game. So important in the grand scheme. A quick perusal of headlines reveals that Elliott chirped and even blasted these prospects. But did he? Did he really? Because when someone pointed out that Elliott had the honor of playing in the National Championship his last time out with his "brothers," he made this startling revelation:
Wait, didn't Elliott skip his final season to enter the NFL Draft and make a ton of money?
Finally, the chaser:
Plenty of notable people have opinions about this controversial bowl season topic. We already saw Kirk Herbstreit's "Rah! Rah! Go team!" take on this story, and NFL Hall-of-Famer Cris Carter reportedly offered his opinion to Colin Cowherd, but that show always sounds like a dog whistle to me. Even Arizona Cardinals coach Bruce Arians was asked his opinion on players skipping their bowl games for personal and/or financial reasons (because it's more interesting than his team's record), and he longs for a perfect world.
On potential first-round draft picks skipping their bowl games

"That would concern me. Depending on what their situation is as a team, because this is a team sport. But you've had a couple of guys get injured in the last couple years. Agents have a lot to say about it. Parents have a lot to say about it. But, it would concern me."

On if it's a case-by-case basis

"Totally."

On if he would like to see college guys play until their last game:

"I would love to see that. I would also like them come out of the game healthy."
Other coaches weren't as diplomatic about the idea of a guy skipping the Hot Pockets Vulcanized Rubber Bowl. Pitt coach Pat Narduzzi carved "T-E-A-M" into the hide of a grizzly he wrestled as his players cheered him on. Actually, he just said, "That's not how our guys operate. Our guys are team players." But presumably in a really macho tone. Also, there was that one high school coach who compared playing in a made-for-TV cash grab bowl game with giving your life in war. That guy's a hoot.
Really, this is all about Fournette, because his name sells clicks. He will likely be a Top 10 pick and this kind of buzz can last until draft week, when talking heads shout at each other about "LACK OF CHARACTER!" and "KILLER INSTINCT!" and "PASSION FOR THE GAME!" Would anyone have cared if Tulsa's Dane Evans skipped the Miami Beach Bowl? Would anyone have noticed?
In the end, Fournette only has one person whose opinion matters, as he tweeted on Tuesday.
Amazingly, Joe Nobodies still insulted him and tried to shame him for his decision. I'm sure Fournette will be thinking about them when his life changes forever on April 27, 2017.