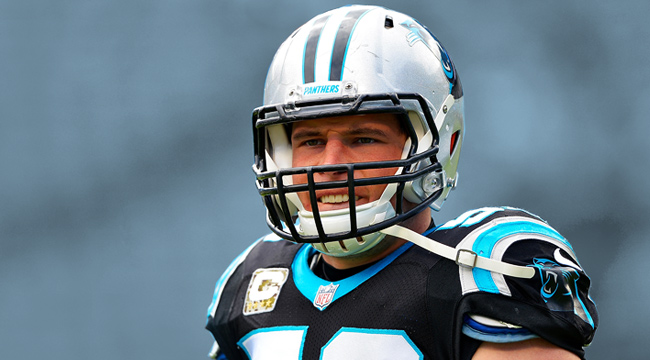 Luke Kuechly is spending a rainy Tuesday afternoon seated in a popular Charlotte restaurant. The All-Pro linebacker isn't just there simply to grab a bite to eat — he's promoting some soup as one of the new faces of Campbell's Chunky Soup. The Chunky Soup brand has had some hilarious television commercials since the turn of the century, featuring prominent NFL players like Michael Strahan and Donovan McNabb.
Uproxx Sports was fortunate enough to spend a few minutes with the 2013 NFL Defensive Player of the Year to ask some soup questions, if acting is in his future, and why simply being consistent on the field means a player can be excellent.
So what's it like for you to follow in the footsteps of Clay Matthews, Michael Strahan, and Donovan McNabb in terms of being a Chunky Soup Brand spokesperson?
When I was growing up, they aways had the locker room one with Donovan Mcnabb where the mom would come through, I thought that was awesome. So it's cool to be with those guys and Dak (Prescott) and Antonio Brown, got to meet those guys as well. It's fun, Campbell's does a good job, they always have good fun commercials and I'm happy to be working with them.
Was the commercial the most fun you've had on a shoot?
That one was fun because the people were awesome, the director was awesome, the set was cool and I thought the script was a lot of fun. It was kinda serious but not so serious. We had a good time.
Do you see acting in your future like The Boz?
Oh, I don't know, he had a little more juice than I did. But I enjoyed doing it, I think it's fun. Most of the stuff we do is pretty lighthearted and we have a good time with it.
For linebackers, you're the gold standard of how the position should be played. Who was your gold standard while you were coming up?
I grew up watching Ray Lewis, Brian Urlacher, Derrick Brooks, and Zach Thomas. Those are the guys that you wanted to be like. Ray Lewis was always playing the Bengals, and we always got Chicago and Tampa games. It was fun, I enjoyed it. Those guys played the game the right way, they played smart, they played hard, the led their defenses well and they played a long time. I think all of those guys will be hall of famers.

What's the biggest thing you learned from that group?
I think those guys' understanding of the game, you can be as big, fast, or strong as you want, but if you don't understand the game and where you need to be, you can get beat. Half step here, half a step there based on what you studied during the week or what you practiced can be the difference between you making a play or you not making one.
You're known for calling out plays before they happen, so what's your study prep like during the week?
I think our coaches do a good job each week presenting stuff to us that we'll see in games, not only in film and during the classroom segment of the day, but also during practice. A lot of the credit goes to those guys in making sure that the looks we get in practice are gonna be thing we're gonna get in the game. We had a couple of those last week that we'd practiced a few times, so that when that carryover happens it kinda makes you happy. It makes all that practice worth it.
I have a certain routine of when I watch certain things. Monday you watch the game. Tuesday you watch the run plays. Wednesday you watch the first and second down pass game. Third down is Thursday and Red Zone is Friday. Kinda what I do every week, that way I got all my bases covered and I know what to expect.
During practice, the offense has the aux cord. What music would you play if you had the aux cord for one practice?
Oh man, that is a good question. I don't think I'd have anything off the top of my head. I'd probably hand it off to Thomas (Davis), he can get something going. I'll hand it to Thomas, I'll let him take care of that, he's the guy in charge of that stuff.
What's the one artist that would surprise people that you listen to?
Jimi Hendrix.
Favorite Jimi Hendrix song?
"Hear My Train A Comin'."
You've been credited with 100 tackles every year as a pro, how does it make you feel to be that consistent on the field?
You just try to get to the ball and, in some games, you get there more than others. I think in this game you try to be consistent, and consistent allows you to be a great player and a great teammate. You look at the good players that I talked about, all those players were consistently good and consistently on the field and that's something you try to replicate.