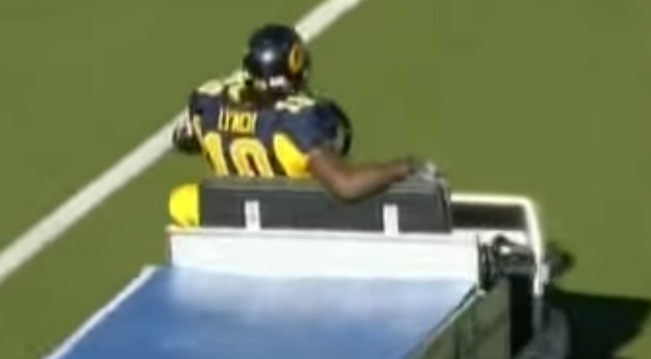 There have been many moments in recent college football history that could be described as important. There was the 2005 Rose Bowl in which Vince Young put forth the best individual performance we've ever seen in a national championship game. There was Alabama's decision to hire Nick Saban, which turned the Crimson Tide into the sport's premier dynasty. There was the time Ndamukong Suh got robbed of a Heisman Trophy when he spent a season at Nebraska eating people, which still is lame.
But none of these moments are nearly as important as the most important college football thing of the last decade or two: Marshawn Lynch, then at the University of California, celebrating a game-winning touchdown against Washington by hopping onto the injury cart and driving that sucker like the most powerful person on earth. Here, watch it, you deserve it.

This will never not be funny. It was such an authentic moment of joy out of a player who, over the course of his football playing career, has established himself as one of the most authentic athletes on earth. College football is a sport that embraces the wonderfully absurd, and few things have ever been more wonderfully absurd than Marshawn By God Lynch hopping onto an injury cart and going for a ride.
Fast forward to today and Lynch is still being asked about the joy ride. This time, it was by Matt Barnes, and Lynch explained exactly why he hopped onto that cart during that fateful day all these years ago. A warning: Lynch cusses a lot.
"It was meant to happen," Lynch said. "The keys was in there, it was facing in the direction I needed to go. So I slid in that thing and I started yokin' that motherf*cker."
The entire story is worth listening to, if only because Lynch gets so much joy reminiscing on the best moment of his college football career. This is also a good time to stress that more college football players should celebrate touchdowns by driving injury carts around, although no one will ever top Beast Mode's iconic ride.