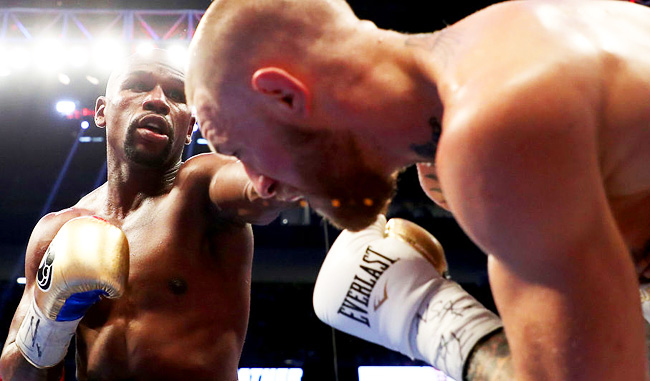 The mega-hyped Mayweather-McGregor megafight is still on track to crack a PPV record according to reports.
The official PPV total reveal hasn't been served up just yet, but high expectations about what a Floyd Mayweather vs. Conor McGregor bout would do compared to 2015's Mayweather-Pacquiao tilt have made the business done by the August fight just as intriguing as the spectacle itself. Yahoo! Sports reports that Mayweather-McGregor is still on track (despite a broadcast marred by technical issues) to reach a new record for North American pay-per-view buys. Mayweather-Pacquiao currently holds the top spot at 4.6 million buys, but Showtime says the Mayweather-McGregor fight is closing in on that total. Showtime Sports executive vice president and general manager Stephen Espinoza told Yahoo that the current projections are very positive.
"It's still a little fuzzy and I don't have it narrowed down to a precise range yet," said Espinoza. "I'm comfortable saying it's mid-4 to high-4. That means that, a), it was a massive number and b), if we don't break the [domestic] record, we're going to be really, really close. We consider the whole thing a massive success."
UFC president Dana White has already tossed a 6.5 million buy number around in the aftermath of the fight which is presumably the worldwide number that he's claiming. As is the case with boxing and combat sports PPV buy talk, it never hurts to have a healthy bit of skepticism before the real total comes out. Either way, the Mayweather-McGregor fight seemed to be a hit with the event-buying public. Now we can all steady ourselves for the inevitable sequel or spin-off 18 months down the line.
(Via Yahoo! Sports & Variety)