On Sunday, we may have witnessed the low point of Peyton Manning's career, one he may never recover from. Manning had a 0.0 passer rating with four interceptions in the Denver Broncos' loss to the Kansas City Chiefs before being benched for backup Brock Osweiler in the second half. Now, with Manning reportedly dealing with serious injuries to his foot and ribs, Osweiler has been announced as the starter in the Broncos' upcoming game against the Chicago Bears this Sunday.
So, to prepare for his first career NFL start, let's familiarize ourselves with Osweiler, starting with what you probably already know about him: He's super tall.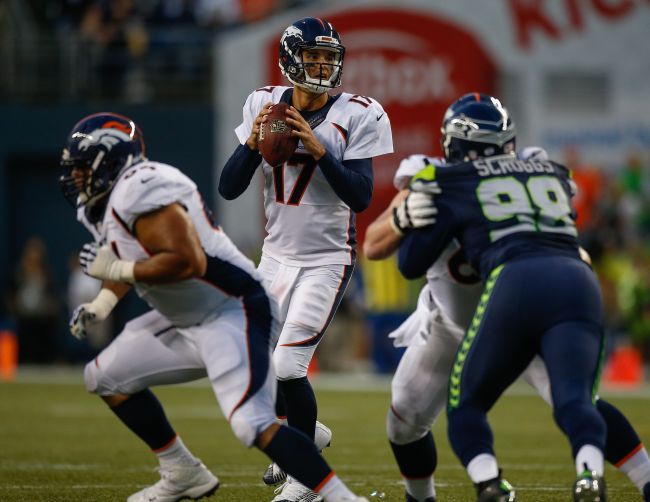 Osweiler stands at an immense 6'8, tying him with early-'90s Seahawks bust Dan McGwire (Mark McGwire's younger brother!) as the tallest quarterback in NFL history. One look at the above photo and you see why his height is an advantage at the position: He can easily see over the offensive line. Of course, a bigger body often also means a lack of quickness, and Osweiler is indeed a pocket quarterback with a slower-than-average release. The former disadvantage is something the Broncos offensive line has been dealing with since Manning came to town, but the latter will be a new challenge.
Osweiler declared for the NFL draft after three seasons at Arizona State, only playing his junior year as the full-time starter. But in that season, Osweiler put up respectable numbers: He completed 63 percent of his passes for over 4,000 yards, with 26 touchdowns against 13 interceptions. He played mostly out of the shotgun, but showed good pocket awareness and arm strength. His size and his flashes of ability led the Broncos to pick him in the back half of the second round in the 2012 Draft, even after they had signed Manning a month before.
Though his height got him drafted, Osweiler's greatest asset heading into his first start will be his experience. Even though he hasn't started a regular season game before, Brock is in his fourth season in the NFL, and all of them have been spent backing up the great Peyton Manning. Osweiler's career to this point bears a striking resemblance to that of Aaron Rodgers, who also got his first start in his fourth season after backing up an all-time legend, the man whose records Manning has spent the last couple of seasons breaking: Brett Favre.
In a league where patience is the exception, not the rule, it's exceedingly rare for a young quarterback to get that sort of time to develop without being thrown into the fire. Osweiler was drafted in the same year as Andrew Luck, Robert Griffin III, Russell Wilson and Nick Foles, and it can seem like they've had entire careers before Osweiler ever got a chance to start. Osweiler, like Rodgers, was in a unique position as a highly-drafted backup to a quarterback who seemingly had nearly unlimited job security.
Of course, Rodgers was considered a potential top overall pick before his notorious slide to the bottom half of the first round in 2005. Osweiler never had that kind of hype, and he doesn't have that kind of talent. But that may only be because Rodgers is the most gifted passer in the NFL; it certainly doesn't mean Osweiler is just a guy. But we don't know yet what he can be. One thing we do know: He has some great wideouts in Demaryius Thomas and Emmanuel Sanders, and one of the best defenses in the NFL to help put the ball in his hands.
What's more fascinating is that Osweiler is on the final year of his rookie contract, and he's set to be an unrestricted free agent at the end of the year. With the way Manning's body is breaking down, it's seeming more likely by the day that this will be Peyton's last hurrah. At this point, Manning has no timetable to return to the lineup (and as bad as he's been, it would still be a shock to see him remain on the bench if he's healthy), so the time is now for Osweiler to prove that he's worth a new contract as a starting quarterback after this season — if not in Denver, then for another team.