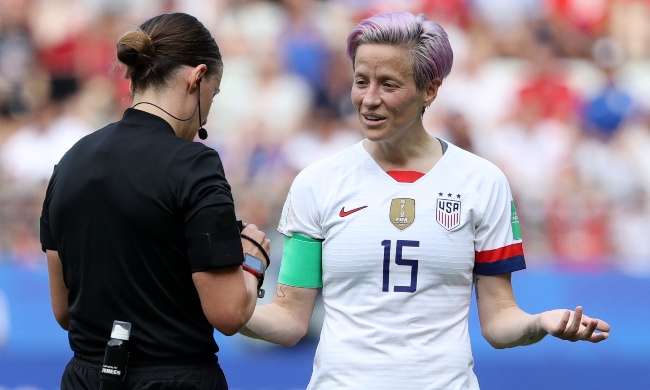 A video clip of United States Women's National Team forward Megan Rapinoe has drawn the ire of Donald Trump. Rapinoe, in a video published on Twitter by Eight by Eight magazine on Tuesday, explicitly expressed her disinterest in visiting the president in the event the USWNT end up winning the 2019 Women's World Cup.
While the video was from a shoot the magazine did in January, it hit the internet on Tuesday and led to plenty of discussion. Plus this is hardly a new position, Rapinoe expressed that she would not go to the White House in a Sports Illustrated story in May, nor is it one unique to her, as forward Alex Morgan said she'd also decline an invitation in Time.
In the corresponding story, Rapinoe — who has been critical of the president in the past and famously knelt for the national anthem in 2016 in solidarity with Colin Kaepernick's protests against inequality in the United States, leading to the U.S. Soccer Federation adopting a rule requiring players to stand for the anthem and Trump expressing his discontent — explained why she did not believe the team would even get an invite.
"[Trump] tries to avoid inviting a team that might decline. Or, like he did when the Warriors turned him down, he'll claim they hadn't been invited in the first place."

Is the co-captain speaking for the whole team here? Rapinoe pauses, long enough for her mouth to curl into an impish grin. "I don't know everyone's voting patterns on our team," she says, chortling, "but I would hope no one voted for him."
As is oftentimes the case when a notable athlete criticizes him, Trump eventually found out about this and took to Twitter in response. After first incorrectly tagging the account @meganrapino — which led to the person behind said account critiquing him — the president deleted his thread and sent it back out again with the correct handle. In addition to airing a gripe about the NBA's decision to move away from the term "owners," Trump said he wanted the team to win before it worried about a White House visit, then invited the team to the White House even if it does not win.
In response, one of Rapinoe's teammates, defender Ali Krieger, expressed that she will not visit the White House, either.
Rapinoe and the USWNT will face off against France in the Women's World Cup quarterfinals on Friday, and according to ESPN, the team's co-captain is slated to speak to the media on Thursday.