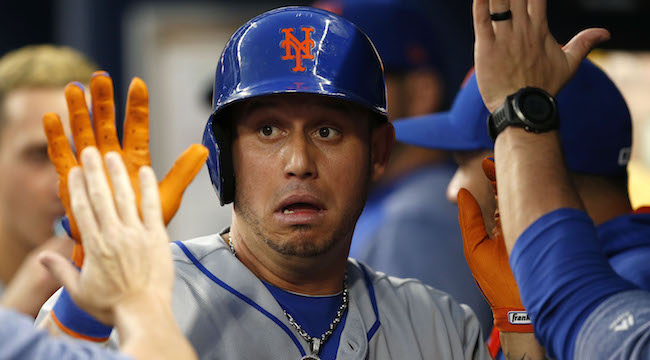 The New York Mets have playoff aspirations, which comes with the territory after a trip to the World Series in 2015 and another postseason appearance in 2016. However, the team is off to something of a slow start for the 2017 season and that crested in a (very) embarrassing 23-5 (yes, you are reading that score correctly) loss to the Washington Nationals on Sunday afternoon.
The game featured an early exit to the team's best player, starting pitcher Noah Syndergaard, after just 1.1 innings of work. Washington's Anthony Rendon exploding for a six-hit performance that included three home runs and a whopping 10 RBI. To that end, it was one of the crazier games involving any team over the course of the young season and one young Mets fan decided to lose his mind, on camera, as a result.
As a warning, the video below contains a great deal of language that isn't suitable for the workplace. Here we go.

There is a lot to unpack here, including some fairly vile commentary with regard to Syndergaard and manager Terry Collins. In a bizarre twist, the youngster has something of a southern accent despite clearly being a die-hard supporter of the Mets and he certainly puts on a show here with these comments that never seem to end.
Of course, it has to be mentioned that it is still quite early in the season and that emotion on this level is unfounded, even if quite amusing. Still, there is something of a disturbed nature here that probably shouldn't go unnoticed and someone needs to explain to the young man that baseball seasons are full of twists and turns.