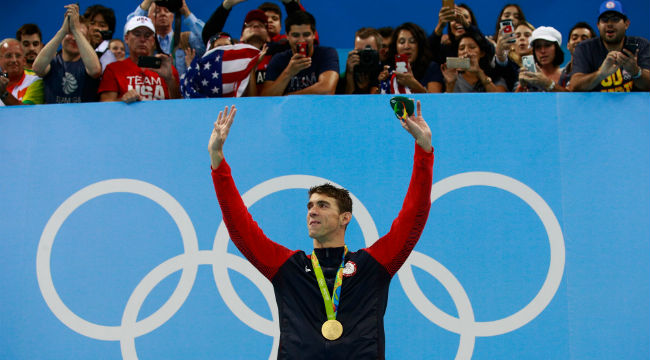 The unparalleled career of Michael Phelps is over. The greatest Olympian to ever live swam the final competitive race of his life on Saturday night, earning a gold in the 4×100-meter medley relay for the United States. Phelps swam the butterfly leg of the race.
The 31-year-old Phelps had previously announced that Saturday would be his last race prior to retirement, and while he has made this claim in the past only to un-retire, he stressed that he is 100 percent done with competitive swimming. Here's what he had to say about his decision to retire back in December of 2015:
Michael Phelps on retirement and Rio being his last Olympic Games #ATTNats pic.twitter.com/hoWkZwFeKm

— USA Swimming (@USASwimming) December 2, 2015

If he does follow through on this promise, then his resume as an Olympian will almost certainly never be topped. For his career on the grandest stage in sports, Phelps took home 28 medals, 23 of which were gold, three silvers, and a pair of bronzes.
His most memorable performance came at the 2008 Olympics, where Phelps swam in eight events and won a gold medal in every one of them. Additionally, Phelps set seven world records at those Games, and in the event where he did not set a world record, he set the Olympic record.
In 2016, Phelps was the flag bearer for the United States at the opening ceremonies and swam six events, taking home five golds and a silver.
It's always possible that Phelps changes his mind and tries to swim at the 2020 Games – which would mark six straight Olympics where Phelps would compete – but we'll take him at his word that this was his final race. With that said, let's all celebrate the career of a person whose athletic accomplishments will never be matched.