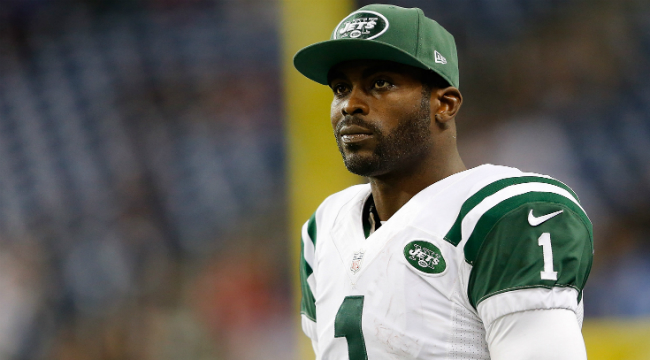 Geno Smith was supposed to be the starting quarterback for the New York Jets this season. It was going to be great! He had new Jet Brandon Marshall to throw to, a new offensive coordinator (named Chan! Show me one other football coach named Chan — YOU CAN'T), and a perfectly unbroken jaw. Now, only two of those things are true, and the Jets need to find someone to pilot their, um, jet until at least October, when Geno's face will be closer to normal human size.
Ryan Fitzpatrick was brought in this offseason to be a seasoned veteran backup, but now that he's the presumptive starter, the Jets are going to need another backup (or someone to engage Fitzpatrick in the hallowed Quarterback Controversy the Jets clearly need). Their backup from last season, Michael Vick, is still available, but according to NFL.com, neither the Jets nor Vick have any interest in getting back together. As for the reason, Rand Getlin cited the new, Chan Gailey-designed offense that the Jets don't feel like teaching Vick, and which Vick doesn't feel like learning.
Fit within an offensive system is as good a reason as any for choosing players, but it's still a pretty harsh burn on Vick that the Jets seem more interested in Tyler Thigpen. Rest assured, every single person who enjoys the Jets being laughingstocks is begging for them to sign Thigpen. That alone should be reason for the Jets to reconsider Vick.
(Via NFL.com)