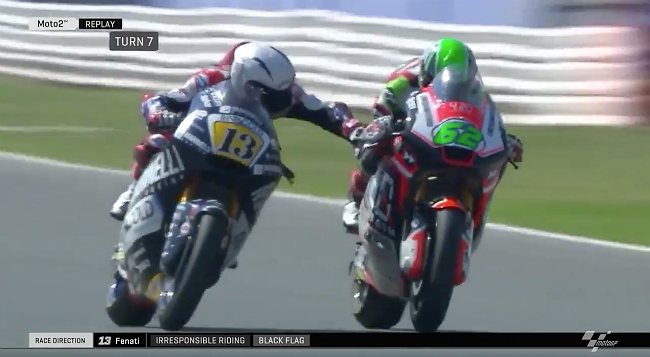 A Moto 2 driver will miss the circuit's next two races after he grabbed the brake handle on another racer's bike in the middle of a race.
Romano Fenati was in a Moto 2 (a division below Moto GP) race where he decided to worry about Stefano Manzi's bike more than his own. Moto 2 races routinely reach speeds near 200 miles per hour, and grabbing another person's bike could have led to a serious crash, which is why Fenati was banned by the sports' governing board after the incident.
According to The Comeback, the dispute between the two was started when both drivers were forced off the track and into the gravel at the San Marino Grand Prix. Fenati then retaliated by reaching to his left and grabbing the bike handles of Manzi's bike.
Manzi was penalized for their original confrontation, but Fenati was black flagged for irresponsible driving for the maneuver and disqualified from the race. He will now miss the circuit's next two races as well. As The Comeback notes, Fenati has a bit of a history messing around with other driver's bikes, including turning them off and kicking out at riders.
It all sounds ridiculously dangerous activities, but when the cameras are rolling it's hard to hide this stuff. Thankfully, everyone in this case appears to be okay.