John Cena is on pace car duty for Sunday's Dayton 500, and the 15-time wrestling world champ was hanging out before the race when a Fox Sports reporter was doing a live report ahead of NASCAR's biggest event of the year.
Apparently the reporter is not much of a WWE fan though, as she completely blew by Cena and instead opted to talk about Chase Elliot and Matt Kenseth's car. In her defense, that's probably slightly more relevant than talking to a pro wrestler.
Still, Cena probably isn't used to being completely ignored and he looked a bit perturbed that he didn't get at least some form of acknowledgement during the live report. As an added insult, he took the reporter's ponytail straight to the face.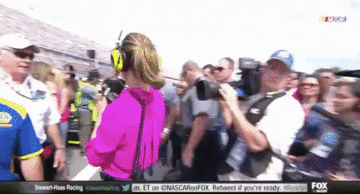 I guess the champ is not here after all. Or at least you just can't see him.
Now Watch: Excellence Of Execution: The Moments That Made Us Love Bret Hart