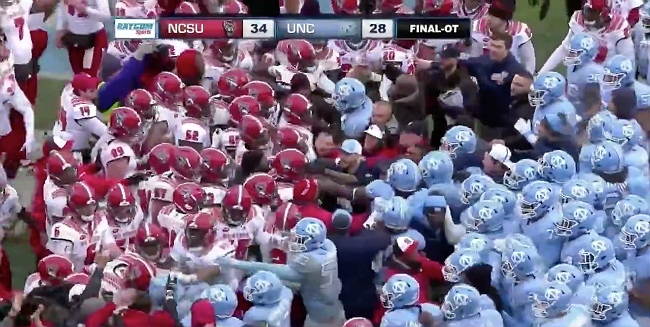 North Carolina and NC State is a rivalry game with a bit less juice than usual this year on the national scale. The Tar Heels are struggling through a 1-win season in the ACC and NC State sits in third in the ACC Atlantic, but a rivalry game is still a rivalry game and both Carolina teams battled hard on Saturday afternoon.
The Wolfpack were considered favorites in the game but North Carolina managed to tie the game in third quarter, and a Cade Fortin touchdown run in the fourth briefly gave the Tar Heels the lead. NC State would tie the game, however, setting up a tense overtime period.
With the game tied at 28 in overtime, North Carolina got the ball first. They failed to score, and the Wolfpack marched down to the goal line, making a win for them feel inevitable. When Reggie Gallaspy scored from a yard out, the game was officially over but the fun was just beginning. Gallaspy's fifth touchdown score of the day sparked a huge brawl, with dozens of players from both teams surging into the field to push and shove in the end zone after a 34-28 NC State win.
A pair of number threes seem to start all the problems here. North Carolina's Dominique Ross makes a last-ditch effort to stop Gallaspy from reaching the end zone, but it's in vain. He brushes up against NC State's No. 3., Kelvin Harmon, who is moving toward Gallaspy and the other Wolfpack players to celebrate. They bump, then bump again and everything starts getting chippy.
This was a fight more about volume than actually anything notable happening. There were plenty of players hand-fighting, but it didn't ever really escalate into punches or anything truly dangerous. Still, the end zone was completely filled with players and coaches either trying to stem the tide of animosity or looking to contribute. It was all pretty hectic, even by the standard set by some of college football's most bitter rivalries.