Another NFL season is upon us, and with it comes a familiar question: Will anybody be able to really slow down the New England Patriots? As long as Tom Brady is playing quarterback and Bill Belichick is coaching, it's tough to say yes to that question. This year's Patriots are trying to be the first team in over a decade to repeat as Super Bowl Champs. Who was the last team to do that? The Patriots in the 2003 and 2004 seasons.
When looking at the American Football Conference this year, I think the Patriots stand alone at the top of the conference with the Pittsburgh Steelers right on their tails. Everybody else is a level below those two teams that met in the AFC Championship last year. There could be some surprises like the Oakland Raiders last year, but I feel like the AFC is predictable this year.
For each team, I will also have a "Fantasy Spin" paragraph highlighting a key player or a few of them just to give my take as a degenerate fantasy player. I've been doing fantasy football for over 20 years (I commish a league in year 19), did seven drafts this year (still time to do more!) and also compete on Fanduel and Draftkings heavily. If anything, it only adds to my passion for the game that I love, even though my LA Rams are terrible.

AFC EAST
New England Patriots
Record: 14-2, 1st in AFC (Last year: 14-2)
Last year's Super Bowl Champions were 14-1 in games started by 40-year-old Tom Brady. I think the most incredible stat from his season is that he had 28 TDs with only 2 INTs (he had 3 INTs in the playoffs). Most QBs slow down by the time they hit 40, but with Brady it can be argued that he's the best player in the NFL and has shown no signs of regression. The addition of WR Brandin Cooks should make their offense more explosive because he's a legit deep threat they didn't have last year. Plus, TE Rob Gronkowski is healthy again, which means it will be tough for defenses to match up with them. Defensively, they should be above average after adding CB Stephon Gilmore from the Bills.
Fantasy Spin: Can we trust any of their running backs? I'm not sure. The only guy I picked from the Patriots is Mike Gillislee, who they got from the Bills. The reason to be leery is because they're also going to have James White, Dion Lewis and Rex Burkhead in the mix. Gillislee could end up with the most fantasy points in the group because LaGarrette Blount got 18 TDs on 299 carries last year. With Blount gone, somebody must step up for goal line careers and that's likely going to be Gillislee. I can see Gillislee finishing with 800 rushing yards and 12 rushing TDs this year.
Miami Dolphins
Record: 8-8 (Last year: 10-6)
The Dolphins will likely take a step back from last year when they made the playoffs as a wild card team that had a first round exit. Going from a rising QB star like Ryan Tannehill (out this season with a torn ACL) to a past his prime starter like Jay Cutler doesn't leave me with much optimism. The defense is strong up front, but were vulnerable against the run (31st in the league), so if your team is playing Miami, hope they run the ball because that's the key to victory.
Fantasy Spin: Jay Ajayi was fourth in the NFL with 1272 rush yards and 8 TDs are good too. I think teams will try to stop him a lot more this year because Cutler isn't much of a threat, but he should still get over 1000 yards. If he does that he should produce 8-10 TDs again. Jarvis Landry could catch over 90 passes again, so he's fine in PPR leagues, but don't expect a lot of touchdowns from him.

Buffalo Bills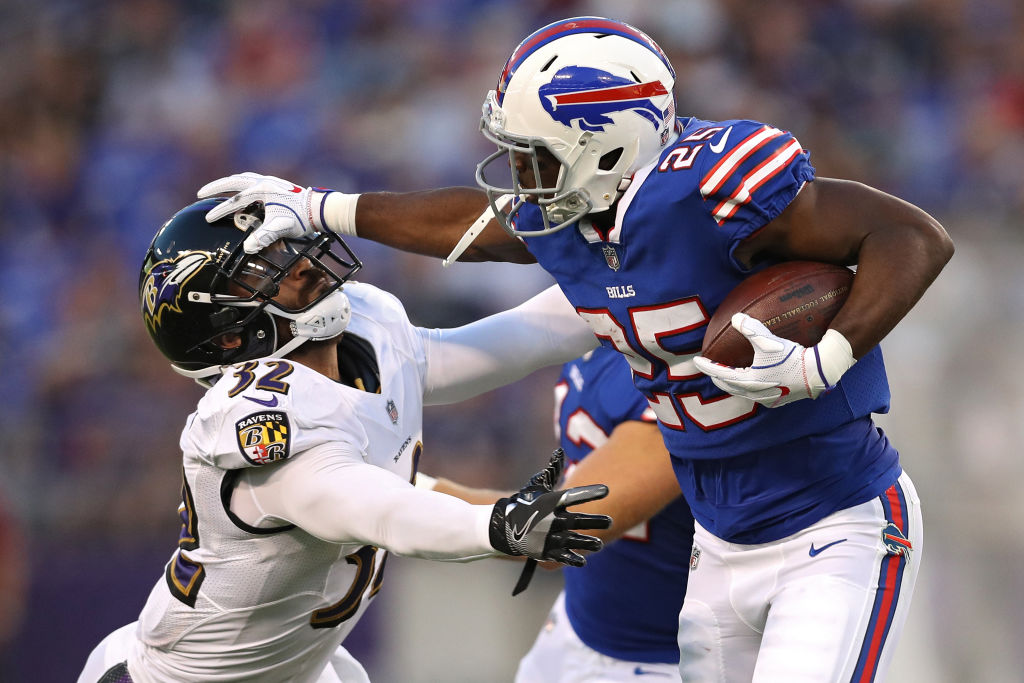 Record: 6-10 (Last Year: 7-9)
The Bills haven't made the playoffs since 1999. It's the longest streak in the NFL in terms of not making the playoffs, which is sad because the Bills are rarely among the bottom five teams in the league, yet they can't seem to hit ten wins to get in the playoffs. Last year's team had trouble moving the ball with the pass, so instead of adding two or three quality WRs, they traded Sammy Watkins for Jordan Matthews (a downgrade) and are hoping rookie WR Zay Jones can turn out to be a star. No pressure, kid. They will continue to have one of the simplest offenses in the league as they utilize RB LeSean McCoy as much as possible. Defensively, they have an average unit that hasn't been able to show consistency.
Fantasy Spin: LeSean McCoy was the third RB selected in most drafts this summer after David Johnson and Le'Veon Bell (due to the Ezekiel Elliott suspension) and it's easy to see why. Everybody knows the Bills are a run first team, yet McCoy was still able to rush for 1,267 yards with 14 total TDs and an incredible 5.4 yards per carry. Can he duplicate it with what might be an even worse passing game? He might, but I can see him going down in yards a bit.
New York Jets
Record: 2-14 (Last Year: 5-11)
Worst team in the league? Yes, I think so. I don't even know if their fans would be mad at me for saying that because they know as well as anybody that this organization is in full rebuild mode and it's going to be a few years until they are respectable again. The QB trio is starter Josh McCown (38 years old and the Jets are his 8th team), third-year backup Bryce Petty and second year Christian Hackenberg, who didn't show signs of improvement in the preseason at all. Their WR group is the worst in the NFL as well and the offensive line isn't good. Bottom line is this team will have trouble scoring. They won't stop teams that much either.
Fantasy Spin: The best Jets player to draft is RB Bilal Powell, who had over 1,110 yards from scrimmage and 5 TDs. The Jets other RB Matt Forte finished with 8 TDs and had 1,076 yards, but at 31 years old he's expected to take more of a backseat. Even with Powell having a decent season last year, beware of taking any Jets player because I think they're going to average about 14 points per game.

AFC NORTH
Pittsburgh Steelers
Record: 12-4, 2nd in AFC (Last Year: 11-5)
The Steelers have one of the best offenses in the league that can beat you in several different ways. Ben Roethlisberger, who may be in his final season after retirement rumors this offseason, is one of the ten best QBs in the league especially because he might have the best RB in Le'Veon Bell. They also have the best WR as well in Antonio Brown (sorry Julio Jones, but I think Brown is better). Add in the return of suspended WR Martavis Bryant and he is probably the best #2 WR in the league. Plus, their offensive line is great. Last year they averaged 24.9 points per game. I think they can improve on that and get in the 27-30 PPG range as long as they can stay healthy, which is key for Bell more than anybody.
Their defense is young and improving. I liked the trade for CB Joe Haden, who should be as motivated as ever after getting out of Cleveland. Their defensive line is pretty good with draft picks that have worked out and if they can get a pass rush led by JJ Watt's brother LB TJ Watt then they'll be good enough for the Steelers to improve on last year.
Fantasy Spin: There's so much to like about the Steelers from a fantasy perspective. I think Bell has a chance to be Offensive Player of the Year because he's seeking a long term deal and if he does something like 2,200 yards from scrimmage and 15 TDs then the Steelers will have to give him what he deserves. I'm not worried about Brown slowing down with Bryant back. They compliment each other well since Bryant is more of a deep threat while Brown works the entire field. Their only weakness may be the lack of production at TE, but it's not a major concern by any means.
Baltimore Ravens
Record: 8-8 (Last Year: 8-8)
Ravens QB Joe Flacco has been dealing with a back injury that kept him on the sidelines for most of the preseason. He should be ready to go by week one this Sunday, but it could be a slow start for him. Flacco attempted 672 passes last year, which would be the most in a normal year, but Drew Brees had one more. Any time you average 42 pass attempts per game it's concerning because that means your run game is bad. They signed Danny Woodhead, but he's more of a pass catching RB. The Ravens defense isn't full of big names like it was in the Ray Lewis/Ed Reed era (they still have Terrell Suggs), but they were 5th against the run and 9th against the pass. It's a young group that should improve. I think John Harbaugh is one of the best coaches in the league, so that's a plus too.
Fantasy Spin: There's not a lot to like here although I did target Woodhead in some PPR leagues as a backup RB that can produce in the right matchup. There could be some games where Woodhead gets you 8 catches for 80 yards and a TD because I expect Flacco to look for him a lot out of the backfield. Staying healthy is the key, of course.

Cincinnati Bengals
Record: 7-9 (Last Year: 6-9-1)
The Bengals best player is WR AJ Green, who missed six games last year due to a hamstring. Their offense was brutal without him, so you know they are happy to have him back and will focus on getting him the ball as much as possible. When healthy, Green's a top 5 WR and QB Andy Dalton knows that. They've been looking for other weapons for years, so that's where RB Joe Mixon and WR John Ross (fastest rookie in the draft) come on. Sadly, Ross is out with knee injury, so it may be a month or two until we see him show that speed. I think Mixon will be somebody they rely on more in week five rather than the opener.
Kudos to Head Coach Marvin Lewis for his 14 years so far in Cincinnati. If it's another non-playoff year like I expect then it may be his last year.
Fantasy Spin: Green should be back to normal and should produce, so be happy you got him if you did. I'm intrigued by Mixon because I feel like he should be starting from day one. Bringing along a rookie slowly is fine. However, when he's clearly better than the others then he should be on the field because Mixon could be the difference maker the Bengals need.
Cleveland Browns
Record: 3-13 (Last Year: 1-15)
When you win one game in a season there's nowhere to go but up, right? Congrats Browns fans because I gave your team two more wins! There will be growing pains because hey've got the youngest starting QB in the league in Notre Dame's DeShone Kizer, who is much more exciting than the guys they had last year. The Browns are expecting a lot out of first overall pick DE Myles Garrett, who should be NFL ready right away. Trading away top CB Joe Haden was a bit of a head scratcher and I think the defense will suffer. They'll play hard for Head Coach Hue Jackson, but there isn't enough talent there for the Browns to make the leap.
Fantasy Spin: I think RB Isaiah Crowell will be the focal point of the offense and their O-line isn't that bad, so he may top last year's 952 rushing yards. What hurts Crowell is Duke Johnson Jr. gets a lot of playing time as a third down back that catches a lot of balls.

AFC SOUTH
Tennessee Titans
Record: 10-6, 4th in AFC (Last year: 9-7)
The Titans are a trendy pick to do well this year because they came so close to making the playoffs last year. They are built like an old school football team with an above average offensive line, two quality RBs in Demarco Murray and Derrick Henry and third year QB Marcus Mariota keeps improving. They improved the WR group with former Pro Bowler Eric Decker and 5th overall pick WR Corey Davis. The defense ranked in the middle of the pack. They don't have a lot of big names on there.
Fantasy Spin: The RB situation interests me a lot because I think Henry is going to overtake Murray as their lead back. It may not happen until the second half of the season, but Henry fits what they want to do as a straight ahead power back that could have a 10+ TD season if he gets enough touches. It's not a knock on Murray at all. It's just how the NFL works. Murray is 29 and Henry is 23. I was happy to take Henry in the later rounds as a backup with upside potential.
Houston Texans
Record: 9-7, Wild Card #2 (Last Year: 9-7)
It was tough to pick between Houston and Baltimore for my second wildcard sport, but I went with the Texans because of that defense. They were first in overall defense (run and pass) in yards while doing it without JJ Watt, who is the best defensive player in football when healthy. I'm not going to put "arguably" either because Watt is the best. The emergence of pass rushers Jadeveon Clowney and Whitney Mercilus has made them scary good. I don't expect any kind of regression because they don't have many holes on defense.
The concerns with the Texans are at QB. They drafted Deshaun Watson, a former Heisman Trophy winner that also won the college football championship last year with Clemson, at 12th overall while hoping he will be their solution at QB. Watson won't be the starter because Tom (not the Macho Man) Savage has the gig for now, but I think Watson will end up in that position by the midway point of the year. The run game with Lamar Miller is solid although I don't ever see him becoming a truly elite back.
Fantasy Spin: DeAndre Hopkins is one of the best WRs in the league that's coming off a down year. Hopkins had 78 catches for 954 yards and just 4 touchdowns. He was one of the biggest busts in fantasy football last season along with Todd Gurley. The good news is Hopkins is only 25 years old with the prime of his career coming up and he was just rewarded by the team with a five-year contract, so obviously, the Texans believe in him. After such a disappointing year, I think Hopkins will bounce back with 90+ catches, 1200+ yards and around 10 TDs. He's too good to have two bad years in a row.

Indianapolis Colts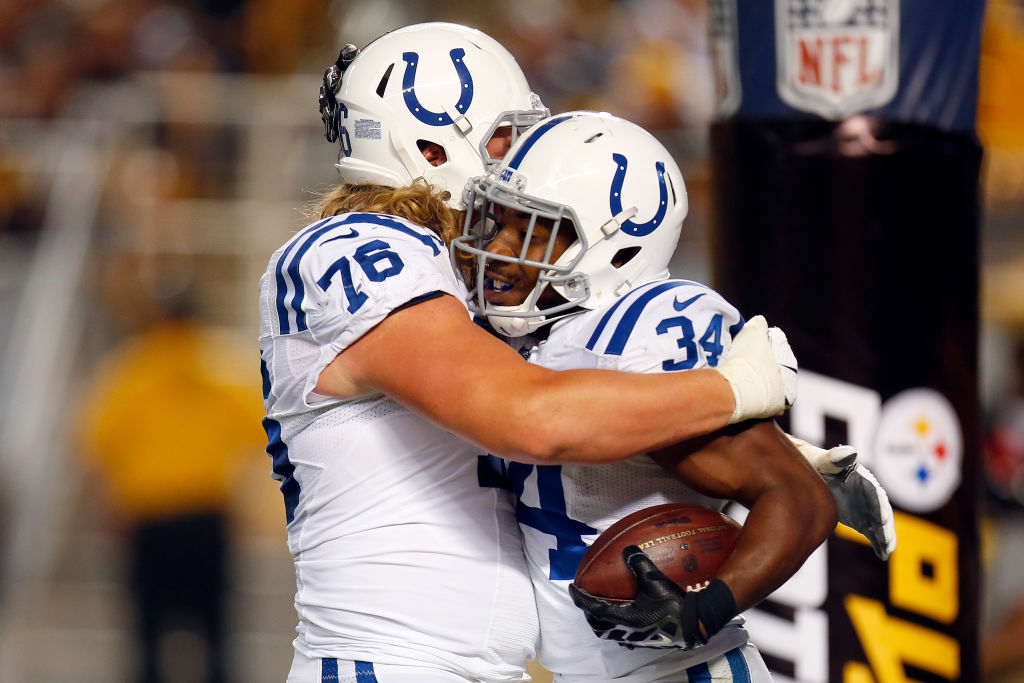 Record: 6-10 (Last Year: 7-9)
The absence of QB Andrew Luck to start the year is a major concern. I like WR TY Hilton a lot as a threat downfield as well as somebody capable of taking the short pass to the house (he led the NFL with 1,448 receiving yards last year). The problem is they don't have much behind him and TE is a weak spot too. Their defense is pretty bad since they ranked 30th in total yards and they haven't been able to fix the problems that have existed for many years. I don't see the Colts improving this year at all.
Fantasy Spin: I'm interested in seeing how Luck does whenever he starts, which could be around week four. I drafted him twice while also securing a quality backup (like Eli Manning or Matt Stafford) just in case he doesn't get back to being an elite QB. With Luck on the field, they have a shot to be in any game because he can carry them. Without him, they are one of the worst teams in the league.
Jacksonville Jaguars
Record: 4-12 (Last Year: 3-13)
It's hard to get excited about a team that's starting QB is Chad Henne because Blake Bortles has become such a disappointment. The Jags know their QB situation is offense, so they drafted RB Leonard Fournette 4th overall out of LSU with the hope that he can be a 1,200 yard RB that can make things easier on the passing game. If you only look at yards against, the defense is actually pretty good because it ranked 6th in the league. If the defense keeps them in games then they have a shot to possibly double their three wins from last year. I'm boosting them to four wins, which isn't much of an improvement at all.
Fantasy Spin: Allen Robinson is in the same category as DeAndre Hopkins, who I mentioned earlier, as a fantasy disappointment. After Robinson had 1,400 receiving yards and 14 TDs in 2015, Robinson had an awful year with just 883 yards and 6 TDs. Is he going to get back to 2015 A-Rob or be more like last year? I'm hoping for an improvement on last year's numbers, but I don't think it will be significant. Maybe he reaches 1,000 yards again. I'm not high on him because of the awful QB situation they have.

AFC WEST
Oakland Raiders
Record: 11-5, 3rd in AFC (Last year: 12-4)
The Raiders made an impressive jump last year from 7 wins to 12, which was good for a wildcard spot since the Chiefs also won 12 games. They have the kind of young roster that is likely going to continue to improve together. It's a shame that QB Derek Carr got hurt before the playoffs because they could have done some damage in the AFC. Where the offense was hurting a bit was in the run game, so they convinced Oakland native Marshawn Lynch to end his one-year retirement to play for his childhood team. Lynch is past his prime but should be good in goal line situations. Most good teams have above average O-lines and that's no accident. I like the WR duo of Amari Cooper and Michael Crabtree, both of whom are like WR1's for Carr.
They really impressed me on defense. I was a huge fan of Khalil Mack coming into the league and bet on him to win Defensive Player of the Year last year, which he did, so that was a nice payout. (I had to pat myself on the back for that!) Mack is a beast on the pass rush and it helps everybody around him. The Raiders are great because of their offense while the defense does just enough to get them the wins. That's how it should be in 2017 as well.
Fantasy Spin: I avoided Lynch in every draft. He hasn't had a great year since 2014 and it's unrealistic to think he'll be better at 31. I try to focus on the younger guys that can improve rather than the older guys that will take a step back. Cooper (1,153 yards with 5 TDs) and Crabtree (1,003 yards with 8 TDs) are both good options at WR that should be able to match or improve upon their numbers.
Kansas City Chiefs
Record: 10-6, Wild Card #1 (Last Year: 12-4)
The Chiefs are a well-balanced team that aren't near the top in terms of yards on offense or defense, but that defense forces the most turnovers and puts up a lot of points. I'm a big fan of safety Eric Berry, who won his battle with cancer to become an All-Pro safety again. Inspiring stuff. Alex Smith is still the Chiefs starting QB, but at 33 years old he's starting to show his age. His arm was never that strong to begin with, which is why he rarely throws it downfield. Drafting rookie QB Pat Mahomes tenth overall shows the Chiefs were very aware of Smith losing some skill. The run game will be interesting with rookie RB Kareem Hunt named the starter after Spencer Ware was injured. If Hunt fills in admirably then they can certainly reach 12 wins like last year, but I think 10 wins is more likely. Nothing wrong with that because they're still a playoff team.
Fantasy Spin: Travis Kelce is the second best TE in the NFL after Rob Gronkowski in my opinion (Jordan Reed at 3). While Tyreek Hill is penciled in as the Chiefs #1 WR, Kelce is the guy I targeted the most on the Chiefs because he's most likely to get 80+ catches after going for 84 catches, 1,125 yards, and just 4 TDs last year. I'd like to see the TD number go up this year. I'm also intrigued by RB Kareem Hunt, who I drafted three times.

Denver Broncos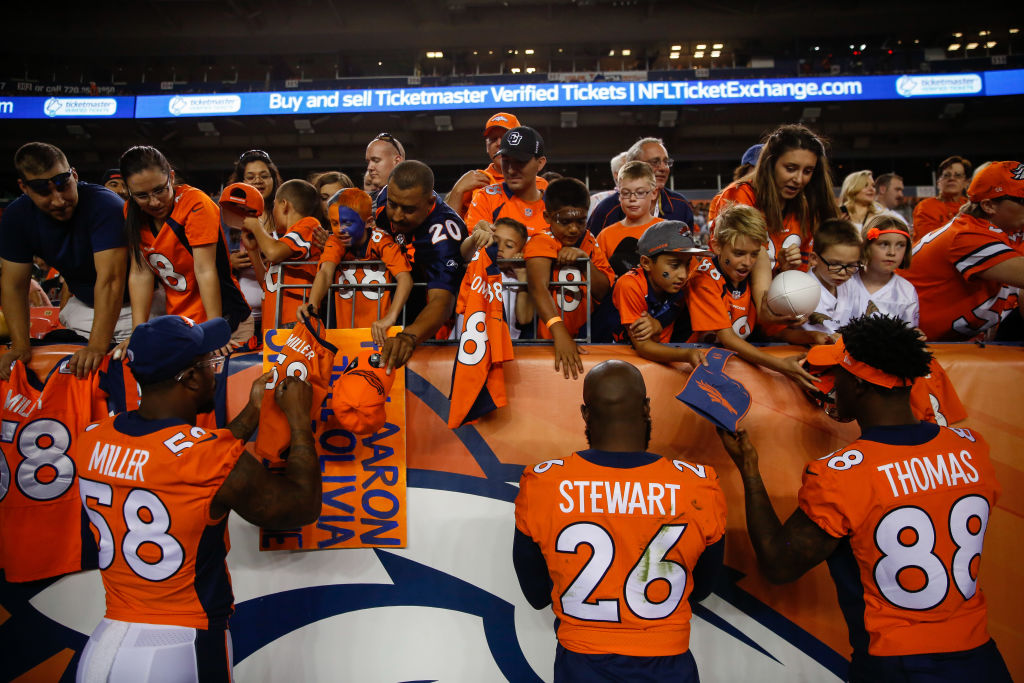 Record: 8-8 (Last Year: 9-7)
The Broncos are boring to watch. Sorry Broncos fans, but it's true. They are led by what is arguably the best defense in the league. In addition to outstanding OLB Von Miller, they have an excellent trio of CBs in Chris Harris, Aqib Talib and Bradley Roby. When you have great pass coverage like that, it makes it tough for a QB to make his reads and that leads to the pass rush taking over. That's why they are #1 against the pass. Denver's inconsistency on offense is going to keep them out of the playoffs again. QB Trevor Siemian may have been able to fool some people into thinking he was good in the first half of the year, but once teams saw more of him they saw there was nothing special about him and the Broncos don't take risks in the passing game. The run game is not nearly as good as it was. That's what I meant earlier by saying they are boring to watch. I don't see much changing this year either.
Fantasy Spin: Can Jamaal Charles bounce back? Chances are that he's not going to do that well since he's missed much of the last two seasons due to knee injuries (torn ACL and torn meniscus) in addition to his first ACL tear in 2011. At 30 years of age, he won't get to 1,500 rushing yards like he has in the past, but I think he's going to be effective in small doses.
Los Angeles Chargers
Record: 6-10 (Last Year: 5-11)
The Chargers have surprise team potential even though I'm not predicting it for them as evidenced by the 6-10 record you see above. Last year's team was average with a 5-6 record until the 0-5 finish. The Chargers defense isn't as bad as some fans probably think because they were 16th in yards against and were fourth at forcing turnovers. Phil Rivers is still one of the better QBs in the league at 35 years of age and his 33 TDs are great to see, but he threw too many INTs last year with 21. Part of it is because of the injuries that surrounded him on offense. With the weapons they have, maybe they can improve to where they are a playoff team, but I think that's tough with the other teams in their division.
Fantasy Spin: WR Keenan Allen is the name that comes to mind because if he's healthy then he is capable of a 1,200+ yard season with double digit TDs. I was leery of him in most of my drafts, so I didn't get him once because I felt like others were picking him too soon. He is Rivers' favorite target, which means if he's a full go then he's going to produce big numbers for the Chargers this year.

AFC Playoffs
Wild Card Weekend
#3 Oakland over #6 Houston
#5 Kansas City over #4 Tennessee
AFC Conference Semifinals
#1 New England over #5 Kansas City
#2 Pittsburgh over #3 Oakland
AFC Championship:
New England over Pittsburgh
To answer the opening question, it's a no. The Patriots are still the best team in the AFC.
I'll be back with the NFC and a Super Bowl prediction tomorrow. Also on Friday, I'll be here to predict every game in week one and I'll have predictions every week all year long.