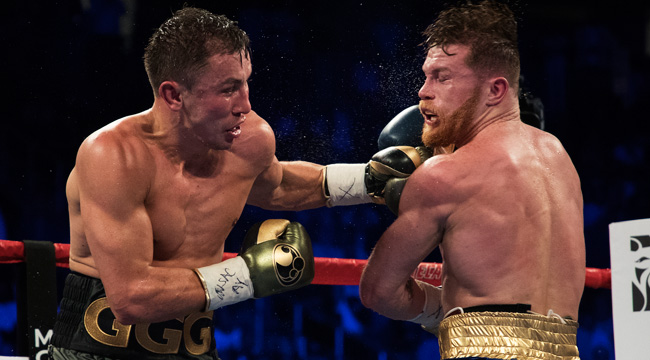 The Nevada State Athletic Commission has finally done it: they went ahead and temporarily suspended Saul 'Canelo' Alvarez after the boxing superstar failed two drug tests for clenbuterol. The move endangers the big May 5th rematch between Canelo and Gennady Golovkin, one of the most anticipated boxing matches of the year. But what other move could they take and still retain the appearance of legitimacy? A hearing is set for April 10th to determine whether the match can go on or if Canelo will be suspended for several months.
This fiasco all started at the beginning of March when Canelo revealed a drug test had found trace amounts of clenbuterol in his system. Better known as 'clen' on the bodybuilding circuit, the performance-enhancing drug would regularly pop up in sports scandals from baseball to the Olympics. More recently, though, there's been a big issue with clenbuterol showing up in the systems of people eating tainted Mexican meat. That's what Canelo is claiming here, and the lab that conducted the testing is backing him up on it.
That explanation seemed on the verge of brushing aside the failed drug tests … until Canelo's opponent Gennady Golovkin started pointing out how crazy the whole thing was and how this all felt like a set up to cover for Canelo's cheating. You can excuse Golovkin for being a bit paranoid … his first fight with Canelo ended up a draw because of some seriously bizarre judging from the NSAC that some went so far to call corrupt. So, in this case, he's seeing them give Canelo another unfair advantage after being caught doing PEDs, and he was not happy.
"Again with Mexican meat? Come on!" Golovkin said through a translator to the Associated Press. "I told you, it's not Mexican meat. This is Canelo. This is his team. This is his promotion. … Canelo is cheating. They're using these drugs, and everybody is just trying to pretend it's not happening!"
Golovkin made it clear that he was still planning to go ahead with the fight, but it turns out it only takes a few days of telling the world press what a bunch of "terrorists killing the sport" the Nevada Commission is before they'll respond. Hence this latest suspension and hearing on the 10th. That's just more ridiculousness on the part of the NSAC in our minds. That hearing is over two weeks from now. Given the size and importance of the fight, why not deal with it … this week, maybe?
Unless of course everyone is just assuming this is just a formality and there's no way the fight will be called off. Given the NSAC's initial willingness to just ignore the whole problem, that wouldn't be too surprising.
(Via ESPN)