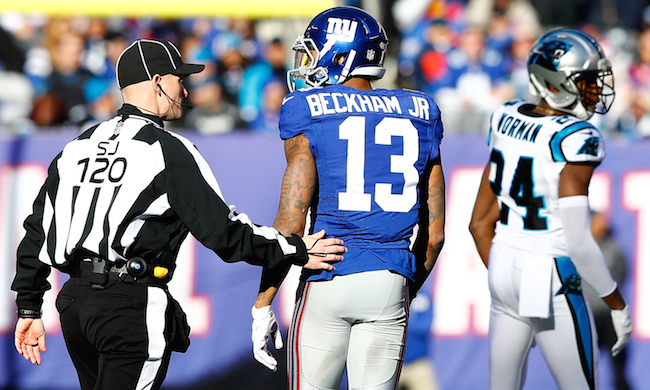 We figured it was coming, and now the official word has come down: New York Giants star receiver Odell Beckham, Jr. has been suspended for his belligerence against the Carolina Panthers on Sunday.
Only hours before did the football world learn that the Panthers gesturing toward ODB with bats may have precipitated his attitude throughout the whole game, but the fact remains that Beckham was penalized three times for unnecessary roughness, including an after-the-play cheap shot to cornerback Josh Norman's helmet.
https://uproxx.com/wp-content/uploads/2015/12/objpersonalfoul2.gif?w=650
Still, debate will rage about whether the discipline on Beckham is warranted due to his being provoked, especially if what Deion Sanders claims is true:
And perhaps if Beckham's suspension stays, then additional investigation and/or discipline against the Panthers players might be on the way. The Bountygate scandal was meant to show that the NFL won't take threats of intentional injury lightly, and there's never a place for homophobic slurs. Still, those are unconfirmed reports, so they should be taken with a grain of salt.
Pending an appeal, Odell will miss the Giants' next game against the Minnesota Vikings, which the NFL flexed into its Sunday night primetime slot. If Beckham does appeal, it would be surprising if it's heard before the game. The Vikings and Giants are both fighting for playoff spots, sure, but without Beckham, the game's signature star would be Adrian Peterson, who isn't exactly the best object of a hype campaign.
Once again, the NFL is caught between its market-imposed status as an entertainment product and its self-imposed status as a moral barometer, and once again, it looks likely they'll make a mess of it.