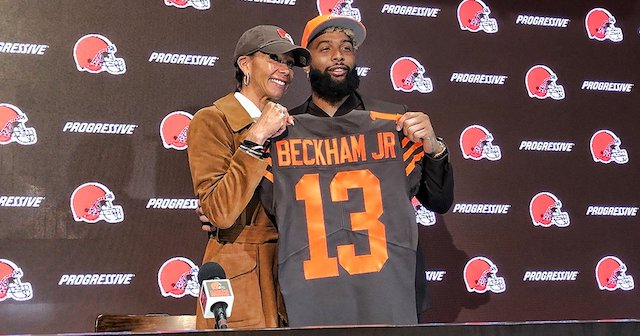 Odell Beckham Jr. was introduced for the first time as a Cleveland Brown on Monday afternoon, though he wasn't alone. The team chose to hold Beckham's introductory press conference with Myles Garett, Jarvis Landry and Baker Mayfield flanking him up on the dais, a symbolic gesture in line with new head coach Freddie Kitchens' overall message of team over individual.
Beckham, dressed in a brown shirt and blazer and donning a bright orange hat with the old-school Brownie The Elf logo, said being traded to Cleveland has the potential to be the peak of his football journey.
"I think it's going to be one of the best thing that's ever happened to me in my life.," Beckham Jr. said. "I can't even put it into words."
Beckham Jr. will be reunited with Landry, his college teammate at LSU and perhaps the most important person in his life outside of family members, as well as his receivers coach from LSU, Adam Henry. The connection between the former Tigers was evident not only by the new commercial that Nike released minutes before the presser, but by the way the two men spoke about each other.

"If I wanted to be anywhere else, it'd be playing alongside my brother. He made me who I am today," Beckham Jr. said. "I feel like we spoke this into existence. This is something we talked about at 17. It's surreal."
Landry echoed his teammate's excitement.
"I cried," Landry said with a grin. "I called Odell. I talked to John (Dorsey), I cried with John. I cried with Freddie. I know for me, it's something that, not only as a player but as a person, he's definitely somebody that my life needs. It's more than an honor to take the field with him again."
Staring at the players that graced the stage, it's not hard to envision the type of offensive firepower the Browns now have at their disposal. Mayfield said he screamed out loud when he got the news that Beckham Jr. had been sent to the Browns, and believes the team's expectations changed with his arrival. As for the concept of potentially having too many mouths to feed on offense, Mayfield didn't seem too concerned.
"They're team-oriented guys," Mayfield said of Landry, Beckham Jr, and the rest of his skill players. "I might just close my eyes and hope one of them catches it."
Beckham Jr. also addressed his reputation of being too emotional and selfish, a narrative that's hounded him ever since he arrived in New York. Speaking calmly, he said that perception about him has never been accurate.
"It's just wrong," Beckham Jr. said. "I see all the stuff that's said. I think one of my biggest problems is that nothing that's said about me is ever going to bother me because I know who I am."
"He's here today. I think that says a lot," Mayfield chimed in, referencing Beckham Jr.'s presence at the first day of voluntary team workouts, something that's taking place two weeks before Beckham would've had to report to the Giants because the Browns have a new head coach.
Beckham Jr. went for at least 1,000 yards receiving in four of his first five seasons in New York. He's now being paired with a quarterback with a penchant for throwing deep, and elite accuracy on said throws to boot. Reaching the playoffs for just the second time in his NFL career should be motivation enough for Beckham, but just in case it's not, the Giants moving on from him looks like it's going to provide an extra spark.
When a reporter asked if being has added to the chip on his shoulder, Beckham Jr. tightened his lips, as if he was doing his best not to let something slip out that he'd later regret. He instead just nodded, and a smile spread across his face.
"Yeah," he said. "That's all I'll say."