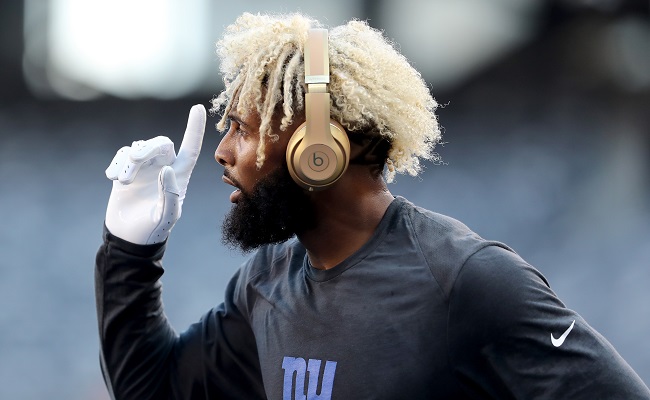 Odell Beckham Jr. missed the lion's share of the 2017 NFL season with injury but, when healthy, few doubt the on-field ability of the 25-year-old wide receiver. With that in mind, the New York Giants have considerable incentive to lock up their best player for the long term and, on Monday, Ian Rapoport and Kimberly Jones of NFL Network reported that Beckham is close to a five-year extension that would make him the league's highest paid wide receiver.
It comes as no surprise that Beckham Jr. would command top dollar, especially on the heels of a report from Jordan Ranaan of ESPN that noted any new deal for the former LSU star was "expected to be a record-breaking contract for a wide receiver." Still, a lot has changed during one offseason, as Beckham Jr. was famously thrown around in trade rumors after his injury-plagued 2017 campaign.

Of course, the Giants do not have to make this kind of commitment right now, as Beckham Jr. is scheduled to make almost $8.5 million in 2018. This kind of long-term agreement could be palatable for both sides, though, and, as noted above, Beckham Jr.'s talent isn't in question at this juncture.
With NFL contracts, it is always interesting to sift through the final details, particularly when it comes to guaranteed money and what the big-picture numbers on the deal actually mean. To make him the highest paid receiver, he needed a guaranteed package of more than the $55 million commandeered by Tampa Bay's Mike Evans and/or an average annual salary north of the $17 million figure commanded by Pittsburgh's Antonio Brown. He got that and a lot more, per ESPN's Josina Anderson.
Beckham and his teammates celebrated appropriately in the locker room.