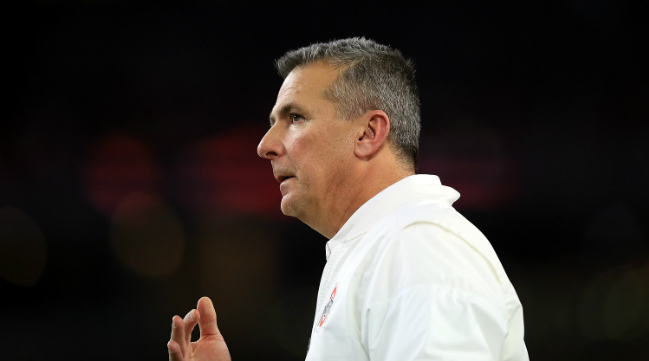 It's official: Urban Meyer will keep his job as the head coach of the Ohio State Buckeyes. The university announced on Wednesday evening that it had completed its investigation into what Meyer knew regarding now-former wide receivers coach Zach Smith, and decided that Meyer will serve a three-game suspension. However, per a statement, Meyer will be able to return to the team on Sept. 2.
Ohio State placed Meyer on administrative leave earlier this month, as the coach was at the center of a firestorm regarding his handling and continued employment of Smith — a former assistant at Florida and Ohio State who was fired earlier this year amid his history of domestic violence becoming public. Meyer originally said at Big Ten Media Days he was unaware of any allegations regarding Smith, then admitted he lied about that in a letter he released on his Twitter account after his suspension.

The specific arrest that led to this investigation occurred in 2015, but there was an additional incident in which Smith was arrested for aggravated battery towards his ex-wife, Courtney, in 2009 during his time on Meyer's staff at Florida.
Since his suspension, the university has launched an investigation into how Meyer handled the case the case, which has led to questions about whether the national championship-winning coach deserved to keep his job, if a suspension would suffice, or if he should be on the sidelines for the first game of the year because his administrative leave counted as "time served." During this past month, co-offensive coordinator and quarterbacks coach Ryan Day has served as interim head coach.
The Buckeyes, ranked fifth in the first AP Poll of the season, will kick off their 2018 campaign at home against Oregon State on Sept. 1. Ohio State will then host Rutgers before traveling to Arlington, Texas to take on TCU. Meyer will return for the team's week four home matchup against Tulane before the team plays its first true road game of the year, a potential top-10 matchup in Beaver Stadium against Penn State.