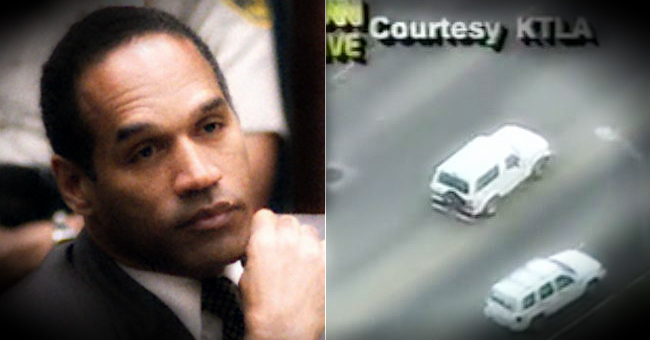 O.J. Simpson celebrated his 68th birthday this week from behind bars in Nevada's Lovelock Correctional Center. And while it wasn't his alleged murder of Nicole Brown and Ronald Goldman that put him there, that case was the start of the Hall of Famer's incredible downward spiral. Here now is a look back at the incident that started it all: The Chase.
June 17, 1994 was a big day in sports. Game 5 of the NBA Finals between the Knicks and the Rockets was set to begin. Arnold Palmer played his final round at the U.S. Open. The New York Rangers celebrated their Stanley Cup victory with a ticker tape parade on Broadway. The FIFA World Cup commenced from Chicago. Ken Griffey, Jr. was tailing Babe Ruth's home-run record. Yet, none of that could eclipse the story of a Heisman trophy winner and Hall of Fame football star by the name of O.J. Simpson.
Aftermath of a Murder
Six hours past his scheduled surrender, O.J. Simpson was considered a fugitive from the law. Robert Kardashian stood in front of a podium on live national TV to read a letter that Simpson wrote earlier that day. No one, not even his friend Kardashian nor his lawyer, Robert Shapiro, knew of O.J's whereabouts. The note read like the last words from a man who was on the precipice of life and death.
"First, everyone understand I had nothing to do with Nicole's murder," Kardashian said. "I loved her, always have and always will. If we had problem it's because I loved her so much. Recently, we came to the understanding that for now we were not right for each other — at least for now."
Four days earlier on June 14, 1994, the bodies of Nicole Brown Simpson and Ronald Goldman were found stabbed to death outside of Brown's Los Angeles home. The grisly murders led investigators to Brown's ex-husband, O.J. Simpson, and he was to surrender himself to police at 11 a.m. on June 17. Instead, he had disappeared, and his best friend and lawyer — two individuals who were with him earlier in the day — appeared on television to update the public and the press.
"Don't feel sorry for me," Kardashian continued in the words of Simpson. "I've had a great life, great friends. Please think of the real O.J. and not this lost person."
In his own words, O.J. Simpson was "lost." In one hour, though, the public would find out just how lost he was when a television event would capture the attention of the nation, and burn its memory into everyone who had a remote control in their hand.
Pursuing a Legend
It was 8:30 a.m. on June 17, 1994, when Shapiro answered the phone. It was the Los Angeles Police Department. Three days of intense investigations into the murders of Brown and Goldman had led police to consider Simpson their primary suspect. Instead of charging in to detain the famed footballer, Shapiro convinced police to allow O.J. to surrender himself, to which they complied.
At the time, the evidence against Simpson was staggering… a bloody ski-mask and blood-soaked clothes were found in his home, among other items that seemed to point authorities to his involvement in the slayings. Within an hour of the phone call, Shapiro arrived at a home in the San Fernando Valley where Simpson and good friend Al Cowlings were located. The lawyer notified Simpson that he had less than two hours to surrender himself to the police.
Sometime after noon, an hour after Simpson was to surrender himself, police called Shapiro once again. This time, Shapiro gave police directions to the San Fernando Valley home. When police arrived, they did not find Simpson; Shapiro explained that he and Cowlings had fled the home moments earlier. An intense manhunt then began, led by the LAPD, into the whereabouts of Simpson and Cowlings. Around 2 p.m., LAPD commander David Gascon held a press conference explaining that police were in pursuit of Simpson and Cowlings, but had yet to discover their location.
Around 5 p.m. — with no solid information leading to the location of Cowlings and Simpson — police issued an arrest warrant for Al Cowlings. Minutes after the warrant was initiated, Shapiro and Kardashian held the press conference reading the letter that O.J. had written. With dusk beginning to creep its way over the L.A. region, and with the parasitic buzz of police, press, and public growing to deafening pitch, Simpson was yet to be discovered.
The Chase Begins
Investigators and the LAPD got their first break in the manhunt when O.J. made a 911 call at approximately 6 p.m.; another 911 call from a pedestrian confirmed the location of the two fugitives. With the calls traced to the Santa Ana freeway located near the burial site of Nicole Brown Simpson, California Highway Patrol then began a pursuit of the vehicle. It wasn't until about 6:45 p.m. that police found Al Cowlings at the wheel of a Ford Bronco, with O.J. Simpson in the rear, traveling on the Artesia Freeway. Simpson had a blue steel revolver pointed to his own head.
Traveling between 40 and 50 mph, police — now gathered in a group of 20 vehicles — gave O.J. and Cowlings enough room to maneuver slowly through the freeway with another cavalcade of officers ahead of them moving traffic to the sides of the road. As word of their location began to spread like wildfire through media outlets, more and more news helicopters began to dot the L.A. sky like a sea of planets surrounding the sun. Cowlings would later speak about he and O.J's intentions in the low-speed chase.
"He was checking out," Cowlings told the Associated Press. "There was no question about it. There's no way O.J. and I were trying to escape. I was trying to save a friend."
Cowlings was apparently trying to keep Simpson from shooting himself in the head, but, at that time, the CHP had no clue if O.J. intended to hurt himself or others. Meanwhile, "The Chase," as it's become to known as, had people speculating as to whether O.J. was trying to flee the country, kill himself, or trying to buy time to hide evidence. Every news outlet in the country was now reporting on the chase, and almost every TV station in the nation was reporting, in some way, on the unfolding events; not even the fifth game of the NBA Finals could derail the swath of coverage. Friends of Simpson hit the airwaves to explain his motivations, express their grief, and even pose messages of surrender to the actor and athlete.
"O.J., please stop. Please stop. We love you, man," Vince Evans said on television station KCBS.
Sometime around 7:30 p.m., the white Ford Bronco turned onto the San Diego Freeway. It was becoming clear that O.J and Cowlings were headed towards O.J.s residence in Brentwood, and, as the pursuit continued, people began lining the edges of the freeway with signs that read "Free O.J.," and "Save the Juice."
Many people were trying to reach out to Simpson as the chase continued, but only one was able to get through to him: Detective Tom Lange. He called O.J. on his cell phone to talk him down.
Simpson asked Lange to tell CHP to allow him to get to his home. He postulated that the gun was only "for himself" and was not present with intention to hurt anyone else. Still, Lange pleaded with O.J. to throw the weapon from the vehicle. He feared the chase would end with police shooting and killing him. The following is a transcript of the conversation between Lange and O.J.
SIMPSON: Let me tell you. I know you're doing your job. You've been honest with me right from the beginning.

LANGE: I appreciate that.

SIMPSON: Just saying you're doing your job. I know you're doing a good job.

LANGE: Okay, thank you, but there's a lot of people that love you. Don't throw it all away.

SIMPSON: Ah —

LANGE: Don't throw it all away.

SIMPSON: I can't take this.

LANGE: Oh, yes, you can. Yes, you can.

SIMPSON: No, I can't.

LANGE: You got your whole family out here.

SIMPSON: Ah — I can't take this.

LANGE: They love you, man. Don't throw this away.

SIMPSON: Ah —

LANGE: Don't do this. They love you. Don't do it, O.J. It's going to work itself out. It's going to work. It's going to work. You're listening to me, I know you are, and you're thinking about your kids right now, aren't you? Aren't you?

SIMPSON: Ah —

LANGE: They're thinking about you. They're thinking about you.

SIMPSON: Ah —

LANGE: So is your mother. Your mother loves you. Everybody loves you. Don't do this.

SIMPSON: Oh —

LANGE: I know you're thinking.

SIMPSON: Oh —

LANGE: Man, just throw it out the window.
Lange thought that appealing to O.J's children and family would bring the pursuit to a halt, but Simpson had no intention of stopping the Bronco until he reached his residence, supposedly, to speak to his mother before he turned himself in. Tensions boiled as Simpson and Cowlings finally arrived at the Brentwood residence. No one knew how this would end, and Lange was trying to ensure that it culminated in a peaceful resolution.
SIMPSON: A.C.'s pulling me in my driveway.
LANGE: I know, I see you, I see you. Please, toss the gun. Juice, just toss it. Come on, man. Just toss it, please?
SIMPSON: Ah —
LANGE: Alright? Juice, just toss the gun.
[Screaming in the background]
LANGE: Who is that out there? Just toss it, Juice. He's just trying to help. He's just trying to help, man. He's just trying to help. Juice, come on. Just toss it. It's okay. Hey! Don't! Hey, man, don't! Don't! Don't! Juice!
?: Don't do it, O.J.! Don't! Don't!
LANGE: Juice! Juice! You there? Hey, pick it up, Juice!
?: Listen to me! Listen to me, O.J.!
LANGE: Juice! I'm still here!
?: Shut the f*ck up!
LANGE: Juice! Juice! Don't do it! Juice! Hey! Juice!
At 8 p.m., Cowlings was negotiating with police on their surrender. Around an hour later, it was complete. O.J. exited the vehicle, and turned himself to the police surrounding his home; authorities took the two fugitives away, violence avoided. Police impounded the infamous vehicle, but not without finding a few interesting items first: $9,000 in cash, O.J's passport, and a fake goatee and mustache with adhesive.
Dawn turned to dusk over L.A., and "The Chase" had concluded. While the impending trial had yet to incur its grasp on the American public, this chapter was over. To this day, it remains one of the most watched moments in TV history.