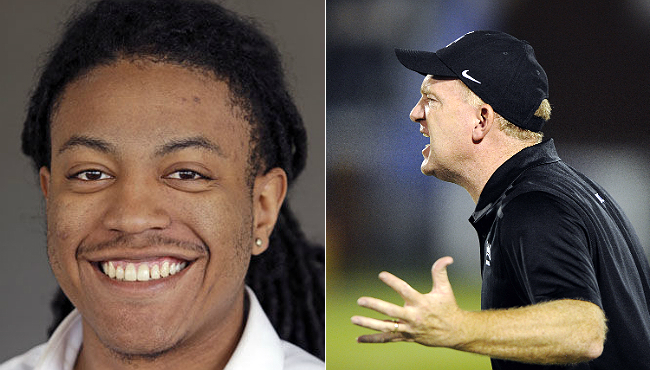 On Thursday, news came out that Idaho head football coach Paul Petrino (yes, brother of Louisville coach Bobby) went ballistic on a newspaper reporter from the Moscow-Pullman Daily News for what he perceived to be unfair criticism of the team's passing offense in an article.
The reporter, Michael-Shawn Dugar, alleged that Petrino approached him and berated him before having to be restrained by an assistant. From DNews.com:
But moments later, Petrino walked up to me and the Tribune reporter just outside the practice field and began to scream in my face, loudly informing us how many deep balls the team completed Wednesday. He then went on to chide us for our inaccurate criticisms of quarterback Matt Linehan and our lack of football knowledge, walking away saying, "You don't even know what the (expletive) you're talking about! Do your (expletive) job!"

Then he turned back and started to move toward me, still angrily shouting expletives about my writing and my professionalism while being physically restrained by one of his assistants, approaching me as if he had plans to do something other than verbally express his concerns.

I stood quietly, choosing not to engage with him, instead waiting for him to lower his voice and talk to me like a man. I never had the chance. He just walked away.
Amid those allegations, Petrino, as well as Idaho Athletic Director Rob Spear, both released statements regarding the incident with Dugar.
Petrino did admit that he "reacted poorly to what I believed to be unfair criticism," but denied threatening Dugar or being restrained, with the money quote being:
"But let me be clear: I never threatened Mr. Dugar and I was never physically restrained from him; any other characterizations of the events yesterday is simply not true."
Something is a little off here. If Dugar really did exaggerate it in his story, then he should obviously write a retraction and apologize. But, if Petrino really did go after Dugar, why wouldn't he just own up to it and not make it worse?
Well, there is a third account of the incident that helps clear things up. Dugar claimed in his piece that a Lewiston Tribune reporter was also present when Petrino approached them after the media session, and that reporter, Theo Lawson, has released his account of what went down, saying:
Minutes later, after an interview with D-line coach Kenny Holmes, Petrino approached us for a more intimate outburst. He stood approximately 3-5 yards away.

Dropping in expletives here and there, Petrino berated our coverage of the team — primarily that of his signal-callers and our evaluation of Linehan, which he believed was unfair.

He proceeded to knock our knowledge of the game and once again, our lack of positive coverage.

Eventually, a member of his staff intervened. While I can't say I recall the staff member tugging at Petrino as if to physically detach him from us, he certainly felt the need to remove Petrino from the situation.

The incident most definitely fell under the category of a verbal attack, though I can't say at any point I expected it to escalate into a physical altercation, nor did I feel threatened by Petrino.
So, there you have it. It's likely that Dugar just perceived the incident differently than how Petrino intended it. Lawson seems to indicate that Petrino didn't approach the reporters with the intent of violence like Dugar claims, and he also says that the coach who restrained Petrino wasn't exactly pulling Petrino away, but more so just guiding him away from the situation.
Regardless, Petrino should probably just chill out, and not berate members of the media for criticizing the team for not throwing enough deep passes, which is a pretty mundane thing to get all worked up about.
Petrino is in his third season at Idaho, where he is just 2-21 overall.