Late in the first overtime of Tuesday night's game between the Blackhawks and Predators at the United Center, Nashville goalie Pekka Rinne had a bit of trouble locating the puck after stopping it behind his net. Turns out it had become lodged in one of his pads, but it took three full minutes for him to locate it.
At one point things were looking dicey as an official began helping Rinne perform a bit of a strip tease, which of course delighted the United Center crowd.
In the end, however, he was finally able to locate the puck in his right leg pad, and play continued.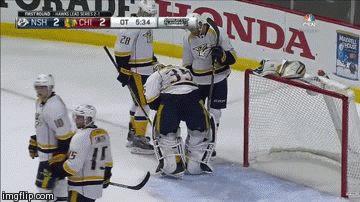 Chicago went on to beat Nashville 3-2 in triple-overtime on a game-winner from Brent Seabrook. The Blackhawks will take a 3-1 series lead into Nashville for Game 5 on Thursday.
(video via Pete Blackburn)