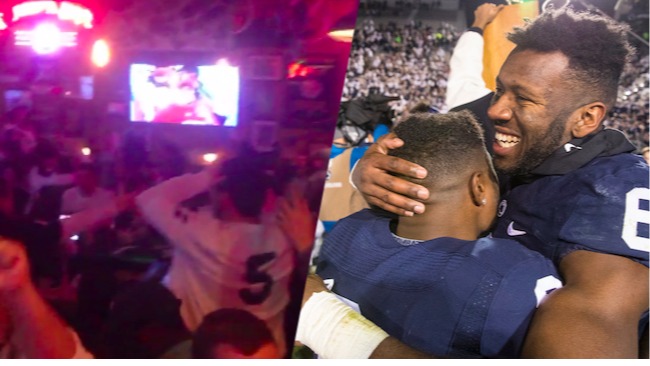 With 5:15 remaining in the second quarter of the Big Ten Championship Game, the dream of a College Football Playoff trip appeared to be dead for the Penn State Nittany Lions. Just two hours later, the scene in State College, Penn. looked like this.
James Franklin's team trailed by a seemingly insurmountable 28-7 margin late into the second quarter, but a 40-yard touchdown pass from the arm of Trace McSorley with 40 seconds remaining in the half brought new life to Penn State – and they took full advantage. The Nittany Lions were wildly impressive offensively over the final 30 minutes of action, racking up 24 points against one of the nation's best defenses and, in the end, Penn State's defense was similarly up to the task.
With about five minutes to play, Wisconsin took over in need of a 75-yard touchdown march and, for part of the drive, that scenario looked plausible. However, the Badgers were forced into a 4th-and-1 situation on the Penn State 24-yard line with 1:04 remaining, and the Nittany Lions stacked up Wisconsin running back Corey Clement at the line of scrimmage to preserve what looked to be an unthinkable victory.
On cue, the reactions arrived.
In addition to the wonder of the Big Ten Championship being claimed by a team that was trailing by 21 points, there was the matter of the upcoming decision by the College Football Playoff committee.
Speculation has been rampant about what the committee will do to choose between Ohio State and Penn State, and the Nittany Lions claiming victory can't be good for the Buckeyes' chances given the head-to-head result earlier in the season. There will be 12 hours of arguments before the the unveiling on Sunday afternoon, but before that transpires, the internet also could not resist a good 3-1 lead joke.
Penn State won the Big Ten on Saturday night and chaos reigns in the college football world once again.