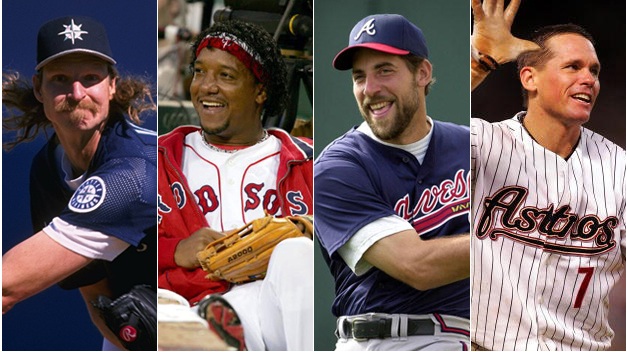 On Tuesday afternoon, Randy Johnson, Pedro Martinez, John Smoltz, and Craig Biggio were each elected to the baseball Hall of Fame, making this the largest class to join the hall since 1955. For Johnson, Martinez, and Smoltz, this was their first year of eligibility while it was the 3rd try for Biggio.
Johnson is a five-time Cy Young Award winner who finished his career with a 303-166 record and 3.29 ERA over 22 seasons. He won four straight Cy Young's between 1999 and 2002. His career fWAR of 111.7 ranks 5th all time behind only Roger Clemens, Cy Young, Walter Johnson, and Greg Maddux. Johnson received 97.3% of the needed 75% of the vote, which is the eighth highest in history.
Martinez is widely regarded as the most dominating pitcher of the so-called steroid era. His 1999 and 2000 seasons are considered by some to be the best back-to-back seasons of all time for a pitcher when he went 41-10 with a 1.90 ERA and 265 ERA+ over 430 combined innings. A three-time Cy Young winner, Martinez does not have the career longevity of Johnson, but for a seven-year period between 1997 and 2003, there was nobody better. Martinez finished with 91.1% of the vote.
John Smoltz, like 2004 HOF inductee Dennis Eckersley before him, had a career that can be broken into two parts; one as starter and one as reliever. The 1996 National League Cy Young winner finished his career with a 213-155 record, but also 154 saves. He is the only pitcher in MLB history with at least 200 career wins and 150 career saves. A full-time starter from 1988 through 1999, Smoltz was converted to a closer in 2001. He was a dominant closer for four seasons before then being converted back to a starter in 2005. He received 82.9% of the vote.
Biggio finished just below Smoltz with 82.7%, his third year on the ballot. In 2014, Biggio narrowly missed induction with 74.8% of the vote. He spent his entire 20-year career with the Houston Astros, finishing with a 65.1 fWAR. A seven-time All-Star, Biggio finished with 3060 career hits.
Once again, Roger Clemens and Barry Bonds failed to make the cut, as well as saber stars Tim Raines and Alan Trammell. Mike Piazza received over 69.9% of the vote this year, so he's knocking on the door to a possible 2016 election.