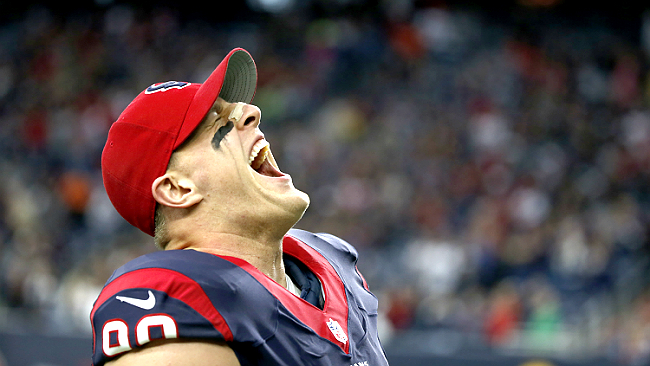 Buffalo Bills coach Rex Ryan is… well… he's his own person, that's for sure. And that's why he's so beloved in the league (unless you're a Patriots fan). So, it makes perfect sense that Ryan, then the head coach of the Jets, tried to draft Houston Texans defensive end J.J. Watt with the 30th pick in the 2011 NFL Draft by deliberately hurting Watt's draft stock.
How? A fake disease, of course. Here's Watt's recollection of his combine experience, via ESPN. Watt was speaking with Buffalo-based media ahead of the Texans' game against the Bills:
I sat down there and he kind of real casually — the whole thing was real casual — and he just said, 'Hey, man, you're gonna be gone by the time we get to pick, so here's what we're gonna do: We're gonna put out a fake medical report that you have some sort of disease. I don't know what it is, whatever, we'll make it up. And you're gonna drop, but we'll pay you like you're up there [in the first round].
The perfect follow-up question for Ryan would be what kind of disease he planned on giving Watt, but to throw out a guess, it would probably be something like this:
Anyway, Ryan's plan might have been hilarious, but the intentions were spot-on. Watt is crushing it as a three-time All-Pro selection and leads the league this year with 13.5 sacks.
(Via ESPN)