[protected-iframe id="122bc865a7d7399df659428c96e5a0c2-60970621-44664202″ info="https://streamable.com/e/rlyx" width="640″ height="360″ frameborder="0″ scrolling="no" webkitallowfullscreen="" mozallowfullscreen="" allowfullscreen=""]
It didn't take very long for Rob Gronkowski to hit his stride during Thursday's NFL season opener in New England. In case there was any doubt about the Patriots tight end picking up right where he left off last season, Gronkowski snagged two touchdown grabs in the first half of the Pats' Week 1 opener against the Steelers.
Despite Gronk not playing at all during the preseason, he came out of the gate and gave Pittsburgh's defense hell trying to contain him in the red zone. On the first touchdown, Gronkowski was basically left completely uncovered for an easy score.
On the latter TD, he managed to fight through some tight coverage and rise above a couple defenders to pick a Tom Brady floater out of mid-air, bringing it down to give the Patriots a two-score lead.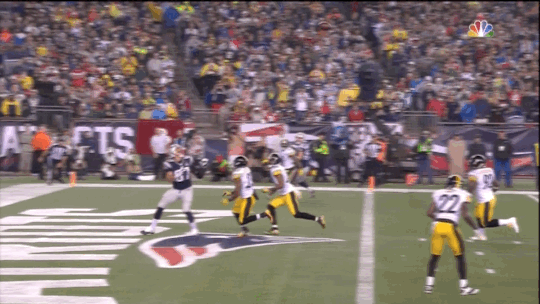 Of course, the return of Gronk touchdowns means the return of Gronk spikes, and they were back in full force, too.