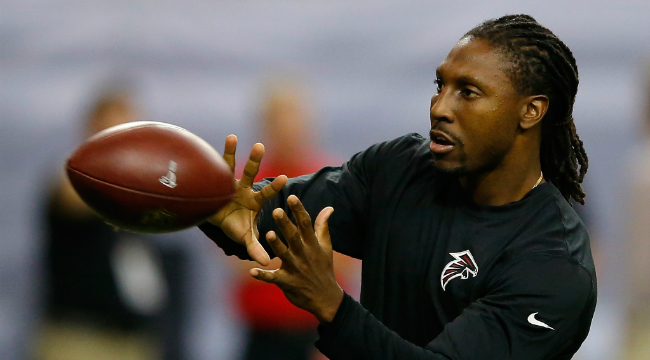 There was a time when Roddy White was one of the most feared wide receivers in the NFL. White would routinely catch 80+ passes a year and made four straight Pro Bowls from 2008 to 2011. His numbers predictably started to go down a little once Julio Jones began to establish himself as one of the best receivers in the league, but prior to this season, he's usually been a threat to have at least 80 catches and 900 yards in a season.
However, White has seen his production slip and his role change this season. Through four games, he has been targeted 13 times – the third-most among Atlanta's receivers and fourth-most on the team, putting him 39 targets behind Jones – with six receptions for 92 yards and no touchdowns. This has led to some frustrations from the veteran wide receiver, as he reportedly told ESPN that he'd rather be used as a receiver than a blocker in the running game.
"For me, at the end of the day, I want to catch passes," White told ESPN.com. "I'm not out here just f—ing around just to sit around to just block f—ing people all day. It's not what I want to do.

"I've contributed to offenses for this franchise for the last nine, 10 years. It always bothers me when I go out and don't catch any balls in a game because it hasn't happened in so long."
According to an interview with the Atlanta Journal-Constitution, though, White claims his quote was taken out of context.
"I'm here for one thing and that's to win," said White in a phone interview with the Atlanta Journal-Constitution on Tuesday.

He was upset with a report on ESPN.com that painted him as being disgruntled with his low production this season in the new offensive scheme.

"This is nothing to get mad over," White said. "I can't control no plays that are being called in the huddle. All I can do is run the routes I'm supposed to run on the play and do my job. That's all I can do."
As a proud veteran who has spent his entire career putting up big numbers for the Falcons, it's certainly reasonable to think that White could want Matt Ryan to throw him the ball a little more. Still, if White says that all he wants to do is win, and the team is undefeated on the season, there's no reason to think that he's lying.