The most difficult hand-off in football is the one that occurs between a franchise quarterback and his successor. For every Brett Favre to Aaron Rodgers or Peyton Manning to Andrew Luck success story, there are botched transitions like the moves from Dan Marino to Scott Mitchell in Miami and Phil Simms to Dave Brown in New York in the '90s that live on like ghost stories that get passed from one coach to another.
In San Francisco, 49ers fans have experienced great fortune and great despair when it comes to that hand-off. With Joe Montana's 59th birthday on Thursday and rumors about the suddenly rebuilding 49ers potentially looking to shop their current franchise quarterback, Colin Kaepernick, it seems like a good time to remember the army of disappointment that followed Montana, his immediate successor Steve Young, and scrap-heap All-Star Jeff Garcia.
Tim Rattay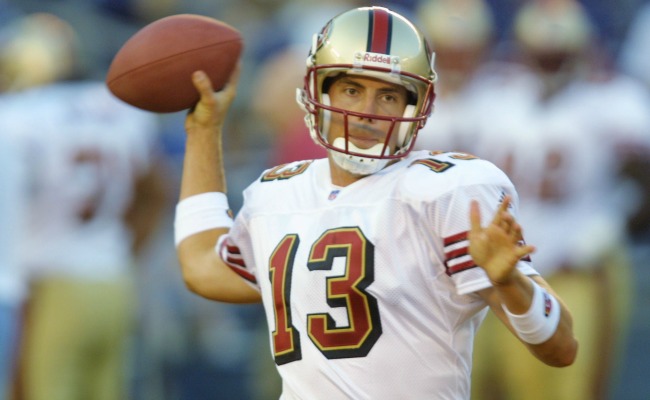 I will always have a soft spot for Rattay thanks to the 5,000-yard bonkers season he had for me in franchise mode on NFL2K2, but in real life, I think his charm came from his underdog status. This was a seventh-round pick who scraped his way past a third-round pick to win a backup job. He's also the guy who eventually got the honor of replacing the guy (Garcia) who replaced the guy (Young) who replaced my guy (Montana) who replaced Steve DeBerg. Unfortunately, Rattay wasn't able to run with that opportunity and wound up getting replaced in the 49ers long-term plans by Alex Smith just one injury-affected season into his tenure as starter — this despite a stat line that included a 60.9 percent completion rate and 2,169 yards in just nine games.
While Rattay's lack of on-field dominance grants him a deserving place on this list, one wonders what might have been had he been given more of a chance. See, I told you I had a soft spot for Rattay.
Ken Dorsey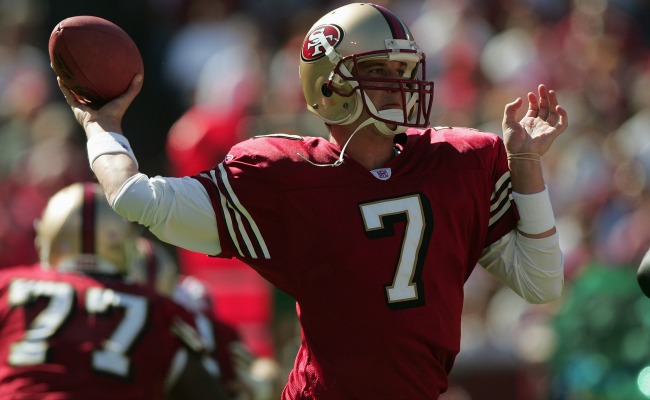 Dorsey was a quintessential college quarterback who couldn't make the adjustment once he moved from the University of Miami to the NFL. Drafted as a seventh-round pick in 2003, Dorsey saw some snaps after Rattay's injury in 2004, but struggled with a 54.4 percent completion rate and 1,231 yards in seven starts. By 2005, Dorsey had moved down to third on the 49ers depth chart and played sparingly and ineffectively. His next stop was Cleveland where he effectively held a clipboard, but at least he (and a third-round draft pick) brought the 49ers Trent Dilfer.
Trent Dilfer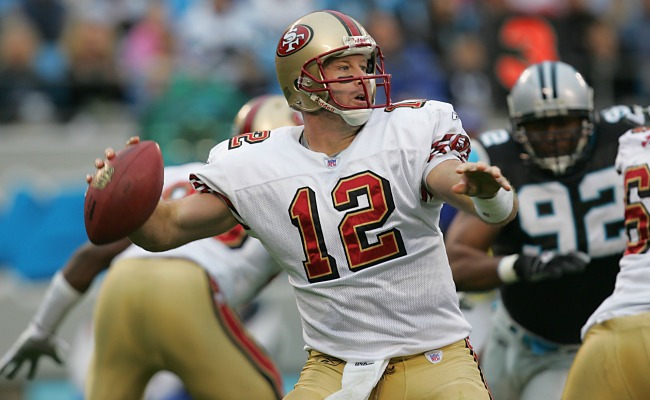 I'm skirting the rules of chronological list-making once again, but the segue is too choice to pass up. Dilfer came to the 49ers before the 2007 season as a stabilizing force who would play behind Alex Smith. Unfortunately, his clipboard-holding, crafty veteran vibe-giving was interrupted by a call to the field and he wound up starting six games while throwing 12 interceptions and barely competing 50 percent of his passes. This would prove to be Dilfer's last ride.
Cody Pickett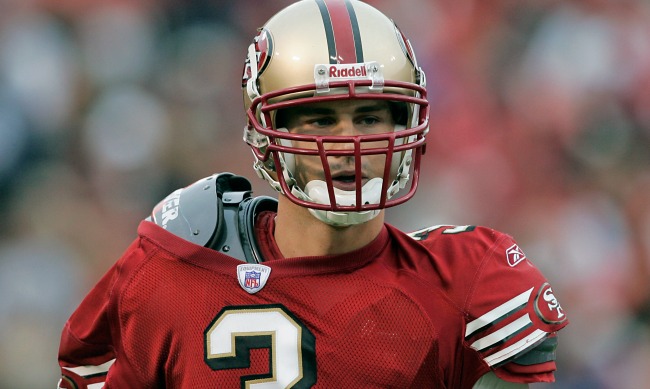 Pickett went in the seventh round the same year the 49ers picked Alex Smith with the first overall pick but amazingly wound up starting two games in 2005 due to injury. Pickett wound up throwing for 140 combined yards in 2005 while completing 40.0 percent completion rate and a 28.3 QB Rating. Pickett's starts — as an over-his-head fourth-string quarterback on a team that would only throw for 1,898 passing yards in the midst of a 4-12 season following a 2-14 season — may represent the lowest moments in the history of the 49ers' franchise.
Chris Weinke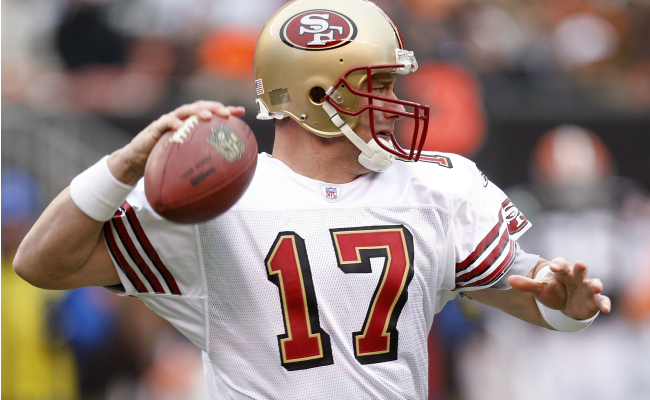 Chris Weinke was a former Heisman winner who had narrowly missed throwing for 3,000 yards in his rookie year, but he was also a 29-year-old rookie who came to the 49ers as a 35-year-old after having only thrown 147 passes in the six intervening years. Unsurprisingly, Weinke's time with the 49ers was utterly forgettable.
J.T. O'Sullivan and Shaun Hill
Dissatisfied with the twin-octagenarian signal-caller approach that had been in place with Dilfer and Weinke at backup quarterback in 2007, the 49ers went out and got a pair of no-names to compete with the oft-injured Alex Smith. Unfortunately, Smith lost out to J.T. O'Sullivan and missed the entire season with a shoulder injury, but O'Sullivan's tenure was short-lived and unsuccessful, losing six of his eight starts. Shaun Hill, on the other hand, played solid football, winning five games in eight starts while throwing for 2,046 yards and 13 touchdowns while completing 62.8 percent of his passes.
Moving to the 2009 season, O'Sullivan left town and found a backup job with the Bengals, for whom he threw 11 passes — his last in the NFL, though he would stick around the league as a roster filler until 2012.
Hill continued to serve as the 49ers' starter heading into the season despite Alex Smith's recovery, but lost the job in the middle of the year due to ineffectiveness. He'd move on to the Detroit Lions in 2010 and throw for 2,686 yards and 16 touchdowns in 10 starts, but he eventually went back to holding a clipboard for the Lions behind Matthew Stafford until last season, when he once again performed, completing 63.3 percent of his passes in eight starts for the Rams. Looking at Hill's bursts of efficiency when given the ball, it's fair to wonder if the 49ers might have bailed too soon on the now-Vikings backup quarterback.
Troy Smith
The former Heisman winner was extremely hot and cold for the 49ers in his six starts, winning Sports Illustrated Player of the Week honors in week eight and eventually losing his job to Alex Smith at the end of the season. After San Francisco, Smith bounced around United Football League and the Canadian Football League. At just 30, we may yet see Troy Smith play in the NFL again.
Alex Smith
Though the Alex Smith era began just a year after Jeff Garcia's ouster from San Francisco, with the exception of beloved video-game legend and underdog Tim Rattay, all of the other inadequate quarterbacks on this list wound up starting under center because of Alex Smith's ineffectiveness.
Cerebral and athletic, ever-suited-up head coach Mike Nolan chose Smith over Aaron Rodgers as the number one overall pick in the 2005 NFL Draft — rejecting the bay area kid who had grown up worshiping Joe Montana for a guy from Dave Krieg country up in Washington — and he chose poorly. While Rodgers marinated on the Packers bench until Brett Favre was ready to pursue his dream of being a middling quarterback for the New York Jets, Smith was thrown into the fire and responded by throwing one touchdown against 11 interceptions in his rookie year. The year 2006 was an improvement, but 2007 was a tire fire thanks to a stubborn shoulder injury that eventually required surgery and a messy relationship with Nolan, who seemed to question Smith's toughness, though that wouldn't be a problem for much longer.
All-told, Alex Smith played under six offensive coordinators and three head coaches. Under the uber-intense Mike Singletary, who replaced Nolan, Smith struggled to establish himself as a clear starting option, though he performed well when he got the chance. Under Jim Harbaugh, though, the Smith that the 49ers had hoped they were getting finally… was still a ways away, but Smith had turned into a solid leader and an able signal caller who led the 49ers to an NFC Championship game in 2011 and was seemingly on his way to a career year in 2012 when he got Wally Pipped by Colin Kaepernick after suffering a concussion thanks to the kid's dynamic playmaking ability.
In the off-season, history repeated itself and the 49ers chose the more athletic, younger option and traded the thread-the-needle veteran to the Kansas City Chiefs, just like they had with Joe Montana.
Did the 49ers make the wrong choice on Smith again? It's hard to say. In two seasons as a Chief, Smith has made a Pro-Bowl and thrown for 6,578 yards while completing 62.9 percent of passes and throwing 41 touchdowns against 13 interceptions. Kaepernick hasn't played to that level, but he's been close and his big play potential, particularly on the ground, is still tantalizing but not as present as the 49ers would like as he struggles to slow the game down and find second- and third-option receivers while often forcing passes into tight spaces that he has no business attempting.
With that said, though, if the 49ers do move off Kaepernick, the cycle of pain in San Francisco could start again. Blaine Gabbert anyone? Maybe Shaun Hill's due another chance. How about Tim Rattay?
(Via Mercury News)