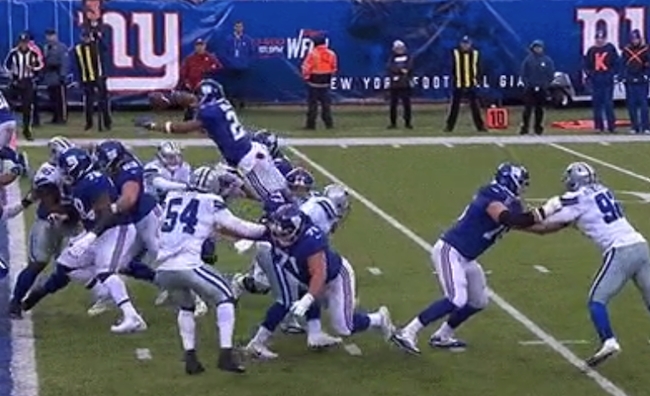 The Giants and Cowboys were playing in a meaningless Week 17 game, with the Cowboys locked into their position in the NFC playoffs and the Giants at 5-10, simply playing to determine draft position.
However, for some reason, the Cowboys played quarterback Dak Prescott for the entire game and, with a few others sitting out, the result was a wildly competitive NFC East battle despite the lack of stakes. Prescott and the Cowboys took a late lead, but the Giants marched back down the field with an answer, leaning on star rookie running back Saquon Barkley.
Barkley crossed the 2,000 all-purpose yards mark during the game, and he left Giants fans with visions of a bright future with his performance all season but especially with how he capped off Week 17. Barkley gave New York a four-point lead with a leaping touchdown, taking off from the 4-yard-line and skying over everyone to the end zone, able to just get across the goal line before the ball got knocked out.

It's a pretty cool looking touchdown, even if not always advisable to go leaping with the ball out like that because of the fumble potential. Still, Barkley's effort on that play and all season has Giants fans thinking they have a bright future if they can find a replacement for Eli Manning soon — although this draft seems unlikely to yield a franchise quarterback.