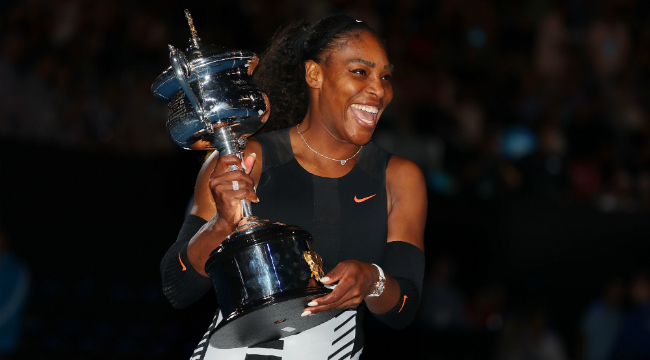 Winning just one Grand Slam is a disappointing year for Serena Williams, but she's got a good excuse for 2017.
The greatest women's tennis player of all-time is expecting her first child. The American tennis superstar announced she is pregnant on her Snapchat on Wednesday, snapping a picture of a growing baby bump with the caption "20 weeks."

Williams at the 20-week mark right now means that she was pregnant while she won the Australian Open in January, which was good for her record-breaking 23rd career Grand Slam. That accomplishment earned her a custom WWE belt and a sweet pair of custom Nikes, but doing all that while expecting is simply amazing.
Seriously, I can't bring myself to properly grasp this. The golden era of tennis may be fading, but there's never a bad time to consider just how incredible Serena Williams has been and for how long she's owned women's tennis.
There are few American athletes that have been as dominant as her at any stretch of any sport, ever. Adding this to the pile may pale in comparison to what she's already achieved, but it's not even an exclamation point. She already expects to come back.
She's already got a Slam achievement named after her, but winning while pregnant should also garner some special name. I'm open to ideas, though. We're all running out of superlatives for Serena at this point.
If Beyonce drops an album while she's with children they will become the most successful children in America. Until then, Serena's baby holds that title.