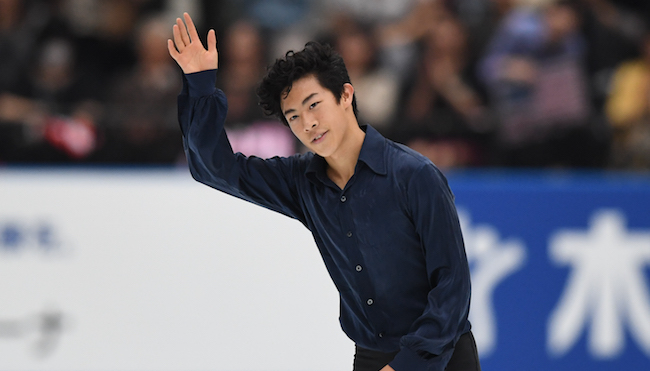 Nathan Chen will make his Olympics debut in PyeongChang in February as a part of Team USA's figure skating squad. Chen has emerged as one of the world's best, taking home first place in five of his nine single's competitions since moving up to the senior circuit, including two wins in his two events to start this season.
Chen is looking to get Team USA back on the medal podium after no American men reached the podium in Sochi in 2014, and will be looking to match Evan Lysacek's 2010 gold medal performance. As he prepares for his Olympics debut, Chen got a special surprise this week when one of the stars from the 2016 Olympics in Rio, gymnast Simone Biles, dropped by the rink to meet him and welcome him to Team Kellogg's, while also offering some advice as he enters his first Olympics, just as she did two years ago.
Biles and Chen spoke with UPROXX Sports about the pressures of the Olympics, advice Biles has for Chen, and how to handle the unique challenges of being in a sport where judges determine the outcome.
What was your first reaction in getting to meet Simone?
Chen: Honestly like, you know, I was kind of lost for words. She's definitely someone I've looked up to for a while. She's literally a legend in the sport, so to be able to meet her and skate with her, is just unbelievable.

What are some of the attributes that she brings that you look to kind of exhibit in your own performances on the ice?
Chen: Yeah. I mean, I can't even imagine the type of pressure that she's under going into the Games, even just the whole season in general. And to be able to, you know, just block all that out, perform like she did, and just blow everyone away is what I definitely want to bring to the season. You know, there's a lot to learn from her. And I think that it's awesome to have people that set these guidelines and also just you know, show that it's possible to do what she did. It's just very inspiring.
For you, what are your expectations for the Olympics and as we get closer to the Games, how are you handling the excitement and any nerves you're feeling?
Chen: I'm very excited for the season. I started off the season well, especially, you know, being able to have a win in Russia and also a win in Salt Lake. To be able to start the season like that is awesome. I have a pretty big competition coming up in November. And so, you know, just preparing myself as best as possible for that. Just take it day by day and not maybe look so much at the Games. Just focus on all the little small goals I have leading up to the game.
Simone, turn over to you for a second. What is that first Olympics experience like and what's kind of some advice on how to take that in, while also not letting it distract from the preparation for the competition?
Biles: Yes. I feel like your first Olympic experience is kind of a whirlwind, but it's so exciting cause you know all your hard work is paying off and you did everything you could to get there. So I would say to really embrace the moment and to have fun, because I feel like, especially for him, this won't be his only Olympics.

When you're looking at the competition itself, and you're at that stage. You've participated in World Championships and big events before, but what's the difference of the Olympic stage and is there added pressure?
Biles: Besides, it's like the the height of your career. I feel like nothing changes but the name of the event. So, try not to think of it that way. It's like any other competition.
I'll ask this one to both of you. In both of your sports, there's a subjectivity to how the performances are judged and scored that isn't necessarily there in a lot of other sports. So, how do you kind of handle those challenges and maybe when you get a score that you thought should've been better, how do you move forward and kind of shrug those things off?
Biles: I feel like, we also have a team event, so we have to do it for our team, and then we do it as individuals. But once you get a score that you might not like, I feel like you can't take it to heart because you have other events to come. So you really have to focus on what you can do rather than what the judges give you.
And Nathan, same kind of question to you. Is there anything that you've learned over the years on kind of just how to mentally move on from something like that?
Chen: I mean, no performance has ever been absolutely perfect. There's always things that I can improve on. And you know, the score definitely shows that in terms of what I did at that event. And then I think that, you know, just try to be honest with myself about every single thing that I did. And, just try to improve on those.
So when you mention the team competition versus the individual competition, are there any different approaches when you are in the team event compared to the individual event? And kind of how do you prepare for both of those?
Biles: Not necessarily. I feel like, every time you go up, you want to be the best that you can be that day and for that event. So you're striving to be the best in that moment. So, you shouldn't approach it too differently.
Nathan, just for you, is there anything you're really in particular looking forward to experiencing with your first Olympics off of the ice and kind of something you're really looking forward to getting able to do when you get to PyeongChang?
Chen: Yeah. I mean, this whole season has been awesome. You know, I've been able to, fortunately, partner with Team Kellogg's. And everything that they've stood behind. Also, all the advice from Simone is something that I really can take to heart, and also something that I really feel I can connect with. And just these opportunities throughout the season, and the things, you know, that I have I guess historically at the Games. Really just you know, helps keep me motivated, keep me happy.