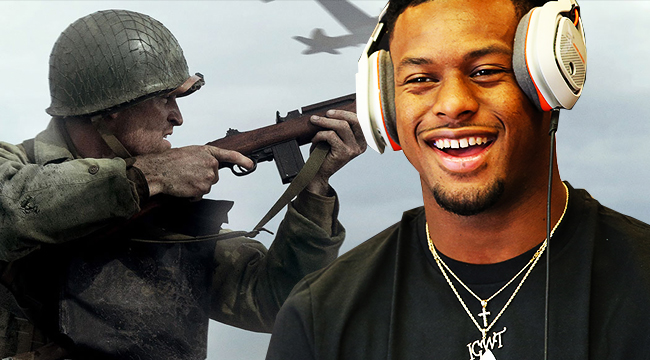 As a rookie, JuJu Smith-Schuster made an immediate impact for the Pittsburgh Steelers, who have a dynamic offense and some of the best players in the league. It's not easy to come onto a squad with the likes of Antonio Brown and Le'Veon Bell and raise eyebrows, but Smith-Schuster did just that. Now he wants gamers to take notice of his skills off the field.
Smith-Schuster is a deadly sniper and a burgeoning pro gamer. As a member of FaZe Clan, he's now on an elite NFL team and an elite esports team, which could be a first for the ever-growing world of competitive gaming.
We spoke to Smith-Schuster after his Super Bowl Call of Duty stream with Randy Moss about how his experiences in the NFL informed an off the field gaming career and how he can use gaming to continue his love of professional competition in the offseason.
How long have you been playing Call of Duty?
I've been playing since I was a kid, since like World at War and then I've been growing into sniping, that's like my thing. I did it a little bit, hardcore since it's a lot harder actually, but I do this thing where I just pull clips, where I don't know if you've seen on my social media, on YouTube, it's basically just getting four kills back to back and making a feed.
I did actually watch that, and I was really impressed by how damn good you are. Do you have aspirations to make this into an offseason semi-pro thing for yourself?
Yeah man, so I do have a Twitch, and I'm going to start live streaming more and pull some more videos, some crazy clips. I'm part of this clan, it's called FaZe Clan, I don't know if you've seen or heard of it. I'm a part of them and I'm working with them this offseason and we do a lot of fun stuff so it'll be interesting.
So when you say you're working with them are you training to become a better CoD player?
Yeah, for sure. I play with them, every time I can get online I'm on there with them. I'm trying to get better you know.
You're obviously living the dreams as an NFL football player, but realistically how awesome is it to be playing at these top levels of Esports and playing CoD with the best of the best?
Oh, it's amazing, because obviously, my first job is the NFL, playing football, being an NFL player. Call of Duty is a hobby for me, and in the offseason, I'm able to be a part of something much bigger, which is with FaZe Clan, and playing with them every day is pretty dope.
You can tell how serious you were during the stream. You're leaning in and you're getting sniper kills while Randy's just yacking it up with the chat room. He's having a good time and you're focusing on getting kills for the team.
Yeah, it's tough like that sometimes, and that's something I need to get used to, being able to Twitch and multi-task, get sniper kills and reply back to people. It's a pretty hard job so I have to work on that.
Do you think that the public perception of Esports and streaming is finally shifting in general?
It's for sure shifting in general. If you think of the population of kids who watch people who stream, it's like the age four to fourteen. Well, YouTube is four to fourteen, users are probably eight and up. People see other peoples' reactions and they just like to see the outcome of the game. So I think it's awesome that it's being able to slip into a new generation where it's seen in a positive way.
Yeah, back in the day I used to always have to be like, "this is good for my hand-eye coordination, you should let me play more games." Do you think that gaming at all in any way helps sharpen your skills on the football field?
Oh for sure. I think it helps out tremendously, just because when you're gaming the communication you have to have when you're playing a game against other teams, it's like, "Yo, he's South East, in that bunker, throw a grenade there," because that right there creates communication. Communication on the field helps a lot, too. I also think that it helps a lot that we're able to play together as a team and show team effort and help each other out. As you can see, when a guy's shooting at you and your teammate comes in and kills him, he helps you. "I've got your back, no matter what the situation is."
It's kind of like a team-building exercise, there's a lot of communication. Are there any parallels to preparing to be a great streamer and video game player, as well as becoming a great athlete.
Yes. Just because, I know my friends who are huge, extremely huge, on Twitch and Instagram and social media and YouTube. Those are the people who have the whole set up in their house to play on an elite computer monitor, everything's right there, it's set out. For me on the field, everything I need is in my locker, if I have the same set up that they have as of today, I think that would make me a better streamer. So there's a preparation to it.
Wide receivers have to have so much focus on the field — it's a game of inches and such self-control. I'm wondering if that relates to having control when you're playing a game because you don't want to get too emotional, you need to focus, you need to have that perfect shot.
Yeah, the focus man, that's why when I was playing the video game and you saw my stream, I was so focused there because that's just how I am. Like, Twitch streaming is not easy, you know, it takes time and preparation to get to the elite. Extreme focus, on the field and off the field.
So now on the opposite end of the spectrum, is there anything from being an athlete and being in high-level locker rooms that you can bring to the people of FaZe Clan?
I mean not really. I'd say the people in FaZe Clan, instead of waking up, are just gaming 24 hours, I'm going to work you guys out at six am to get that body right, so it helps, sleeping better or being awake and aware. I guess it's like that or being pushed in the gym or being tackled while playing real games, keep your focus on the game. I don't know man, good question.
Esports are filling out stadiums now. There are millions of dollars in it, these people are superstars in South Korea and it's getting there in the US. How big do you think Esports will get and will it ever get anywhere near the level of the NFL?
I think Esports are becoming a bigger game just because it's worldwide. You have a lot of these teams where people are involved from all different countries, whereas the NFL is pretty much just the United States. I think that it will get there but I don't think it will get to the point of the NFL level. I think it's becoming a much bigger thing worldwide in every country, and the following, I'd think that the following for the EA Sports games and like Call of Duty, and the people who stream and do all that, they have more of a following than the NFL.
You come into the league, you're a rookie, and obviously, you really came into your own relatively early in the season, but it seemed like you were prepared to knock out these gaming streams, you were on YouTube doing skits and stuff, and now here you are on Twitch and Call of Duty. Were you prepared to know that once you made it to the NFL you were going to use it as a springboard to do all these other cool things with your career?
I really did. You know, thank god I had a great season. It helps a lot to communicate to other people like the FaZe Clan. Obviously, they were the ones who are trying to be successful too so that would work, and also hitting up Call of Duty, and I was able to prove to myself that I was worthy to be part of this.
[protected-iframe id="fd914871a0058aa39929c62046b642c0-60970621-76566046″ info="https://player.twitch.tv/?autoplay=false&video=v224674932″ width="620″ height="378″ frameborder="0″ scrolling="no"]Watch Twitch Prime presents WW2 Resistance DLC with Randy Moss & JuJu Smith-Schuster! from Swiftor on www.twitch.tv
How cool is it to see Le'Veon Bell in the game? I saw you walk right up to him and be like, "Wassup dude?"
It was crazy. It's crazy. Like every day I turn on my game, and you have to go to him because you have to upgrade your armory or the stuff that you need in your inventory. So there's no way of dodging him, and obviously, they're out and the only way to get your coins and stuff, you'll see him, so it's awesome that I see him every day and on the game.
Do you think he'll be back on the Steelers next year?
Oh, I'm hoping so man, I'm pretty sure he will, he's too valuable to lose.
What is it like to gain fans not just because of what you did in college and the NFL, but through fantasy football and video games and Twitter and Twitch?
I think that no matter the age or how old you are or who plays, I think it's amazing how you all can connect through video games, whether you like fantasy or like gaming. It's crazy because it's a worldwide thing, you know, and it's becoming a much bigger thing. Just like you said, you feel more connected when you have these things. Like you didn't know about me until fantasy. Now you know I'm a gamer you know I do YouTube, I Twitch, it just brings us even closer, you know? So I think it's pretty cool how you all can relate like that.