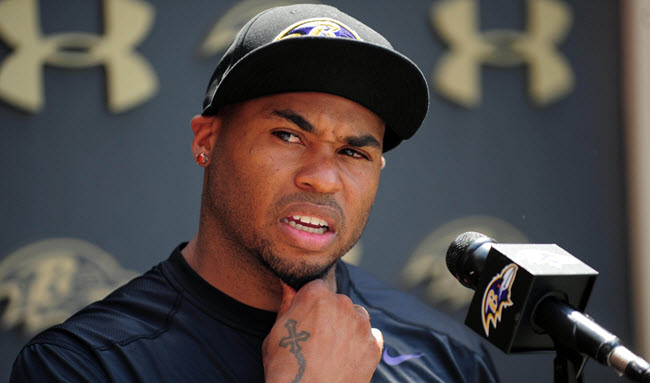 Steve Smith, Panthers legend and current wide receiver for the Baltimore Ravens, has decided to hang up his fists and trash talk at the end of the 2015 season. Smith has been in the league since 2001 (drafted in third round by the Panthers), but it feels like it's been a lot longer. Smith may not be quite a Hall of Famer, but he would be a first ballot if one of the requirements was being the angriest, toughest player on the field at any given time.
Smith is a legend for his toughness and his trash talk probably more than he is for his many years of stellar play. He once got suspended for punching his own teammate. He's probably punched a lot of teammates over the years to be honest, and they all probably deserved it for thinking they could take Steve Smith.
Anyway, I'm sure for the next few days and over the course of the season, we will be seeing lots of articles about Smith's farewell (like this one). His best moments are about to get a lot of views on YouTube. My personal favorites: His end zone celebrations, Ice Up, Son, That one time he broke his arm on a TD catch against the Giants, Sticking it to Carolina after they let him walk, and his incredibly badass response to a late hit. The football world will be a sadder place without ol' punchy.
According to no sources at all, this is how he announced his retirement to the Ravens organization:
Baltimore Ravens owner Steve Bisciotti and head coach John Harbaugh sit at a table in the Ravens conference room. Film of the previous season plays on the projector.
Steve Bisciotti: Huh, look how many times Torrey managed to get a DPI called on him. We are going to miss that so much. He was the most reliable source of BS yards in the league. What are you gonna do about it, John?
John Harbaugh: I've got some ideas, but we are going to need a deep threat. I've been debating letting Steve Smith run free in the slot and just punch everyone out so that another WR can get open.
Bisciotti: What other WR?
Harbaugh: Starts shuffling through papers Uh… hold on… um… man I can't remember any of… uhhh… Pulls out sheet. Breshad Perriman? Kamar Aiken? I guess? Anyway it won't matter. Smith is our weapon. We can rely on him.
[door punched open]
Steve Smith: I HAVE SOME BAD NEWS, ACTUALLY.
Steve punches John Harbaugh and Steve Bisciotti
Bisciotti: Hi, Steve. What's wrong?
Smith: I have decided this is going to be my final year. No more punchball. No more Mr. Two for Flinching. No more calling Joe Flacco a gummy bear buttcrack motherf*cker. No more jamming Dennis Pitta into the ice tub and telling him to ice up. After this year, I'm done. I wanna join UFC. I think I could take Rousey. She's got a nice face. I wanna hit it. With my fist.
Harbaugh: Wow… um, jeez. I'm sorry to hear that, Steve. We'll miss you. Promise me that you'll mentor these young guys this year for me, they look up to you.
Smith: punches Harbaugh again. You bet coach. I'm gonna turn these girly slappers into real men. Punch men. By the end of the year you'll have an entire team of Ray Rices!
pauses
Maybe that was the wrong example to use. Anyway, peace, I'm out. Punches both men one more time, then punches door open and leaves. Soon a janitor runs by the doorway screaming and Steve chases him.
Harbaugh: I'm gonna miss that guy.