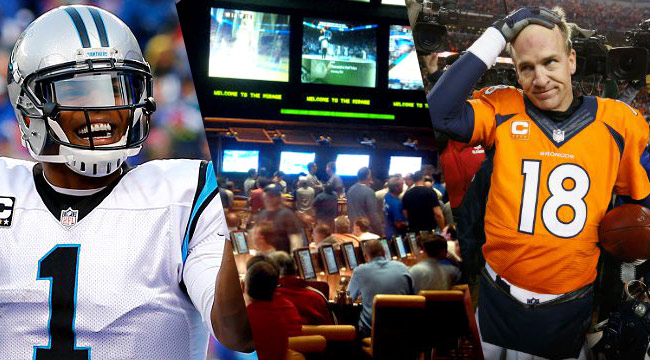 Let's face it, if you're not a fan of either the Carolina Panthers or Denver Broncos, you probably have no real interest in what will happen on the field on Sunday during Super Bowl 50. Your only interest that day will be what kind of food is being served, how much alcohol you're able to consume, maybe the commercials – if you're into that sort of thing – and, if you're lucky, enjoying some good company with friends and family.
Oh, and the betting. The ridiculous amounts of betting.
For heavy gamblers, and even non-heavy gamblers to an extent, betting on football is a common activity that has become second  nature. And the Super Bowl is, well, our Super Bowl. For a novice like myself, I'm perfectly content with plopping down $5 or $10 on a football square that, historically speaking, has a zero percent chance of making me any money. But for real die-hards, they're not about to leave their money to the unpredictability and randomness of a Super Bowl square. They'd rather do some research and have some control. And for that, they'll turn to prop bets.
The specifics of a Super Bowl prop bet usually range anywhere from the somewhat-benevolent "will the coin toss land on heads or tails" to something more outrageous like "If Steph Curry is shown on TV during the broadcast, what will he be wearing?" No, for real, that's a sincere bet you can make this year, according to the online sports book, Bovada. In fact, there are literally hundreds of different prop bets you can make leading up to the game, a lot of which are quite silly.
Here are some of them, courtesy of Jimmy Shapiro at Props PR:
The Aforementioned Stephen Curry Bet
A personalized Panthers jersey with his own name on the back (1/1)
A Cam Newton jersey (3/1)
Any other Carolina Panthers jersey (5/1)
No jersey whatsoever (2/1)
Will Peyton Manning Announce His Retirement During His Live Post Game Interview?
Yes (+500; 5/1)
No (-1000; 1/10)
Will Peyton Manning Be Seen Crying At Any Point During The Broadcast?
Yes (+600; 6/1)
No (-1200; 1/12)
Will Mike Carey Be Wrong About A Challenge?
Yes (+100; 11/10)
No (-150; 2/3)
How Many Times Will "Dab" Or "Dabbing" Be Said During The Broadcast?
Over two (Even; 1/1)
Under two (-140; 5/7)
Will There Be An Earthquake During The Game?
What Color Will The Liquid Be That Is Poured On The Winning Coach?
Orange (5/4)
Blue (3/1)
Clear (4/1)
Yellow (4/1)
Red (6/1)
Green (10/1)
Purple (10/1)
Will The Panthers Player Who Scores Their First Touchdown Give The Football To A Boy Or Girl?
Boy (-200; 1/2)
Girl (+150; 3/2)
Will "Left Shark" Make An Appearance On Stage During The Halftime Show?
What Color Footwear Will Beyonce Be Wearing?
Black (3/2)
Gold Or Brown (5/2)
White (11/4)
Silver Or Gray (19/4)
Any Other Color (7/1)
Will There Be A Score In The First One Minute, 30 Seconds Of The First Quarter?
Yes (+1000; 10/1)
No (-2500; 1/25)
Who Will The Super Bowl MVP Mention First?
God (2/1)
Team (2/1)
City Or Fans (6/1)
Coach (15/2)
His Family (15/1)
Does Not Mention Any Of The Above (9/4)
How Many Wings Will Be Sold By Buffalo Wild Wings?
How Many Will Be Eaten By Uproxx's Resident Chicken Wing Expert Andy Isaac?

50 Or More (2/1)
Fewer Than 50 (200/1)
Okay, so that last one isn't a real bet, but it might as well be. It's clear that no matter which direction you want to go with your bet, Vegas is likely to have you covered. In fact, you can even parlay your prop into completely different categories like politics, or other non-football sports. For instance, you can bet that Carolina wins the Super Bowl, AND Donald Trump wins the 2016 Presidential election, which is currently at 13/4. Or you can bet which will be higher, Tiger Woods' 1st round score at the Masters in April or Emmanuel Sanders total receiving yards on Sunday?
So go out and find one that works for you. Or, better yet, maybe save your money and use it towards buying more chicken wings for the party.  Yeah, on second thought, go with that. Your family and friends will appreciate you for it.