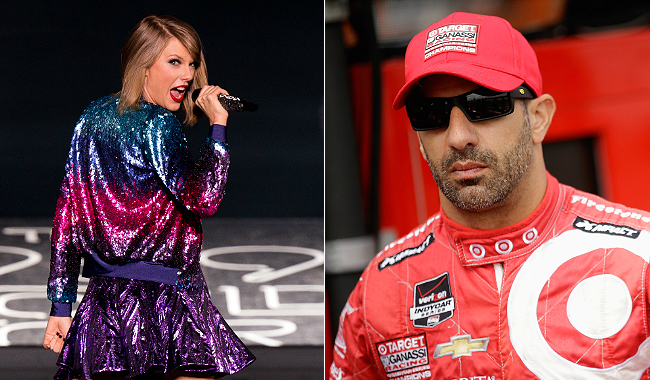 IndyCar driver Tony Kanaan is participating in the Detroit Belle Isle Grand Prix on Sunday, and he'll be doing it with a new sponsor. What brand is he aligning with now? A traditional racing sponsor like a watch company or a European cell phone brand that Americans have never heard of? (Note: I do not know if these are traditional racing sponsors.) Perhaps a hot new brand like Tumblr or Pepsi? (Hey, it's the taste of a new generation®). It's not — MY GOD THAT'S TAYLOR SWIFT'S MUSIC, AND IT'S UPSETTINGLY CATCHY!
Big Machine is Taylor Swift's record label, just so you know. What's also a Big Machine? Tony Kanaan's race car! Heyooo!
Not only will the 40-year-old Kanaan surely get a new wave of young fans (for about a day) out of this, he has locked up the title for "Most Taylor Swift on a Race Car (In An Officially Sanctioned Event)" until someone else (Helio?) goes bigger. I'm thinking T-Swift's face all over that front wedge. Is it called a front wedge?
(Via ESPN)