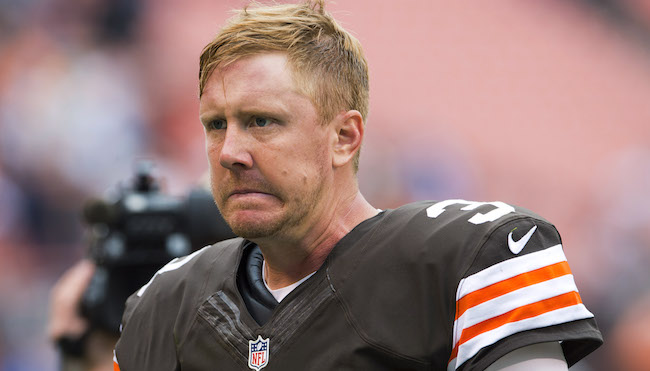 The Tennessee Titans have a bit of a quarterback problem on their hands now that Marcus Mariota is dealing with a hamstring injury, so they naturally turned to the free agency market to find an insurance policy should he have to miss extended time.
For an offense that likes to pressure defenses by using Mariota's athleticism and ability as a runner (he has 20 carries for 116 yards and three touchdowns in four games this season) the decision on what free agent quarterback to sign was simple. As expected they went and scooped up the highly coveted Brandon Weeden.
Yes, the fleet of foot 33-year-old who has averaged 5.9 rushing yards per game and has a robust passer rating of 76 for his career was the easy choice. Weeden's been so popular in his career that he's found himself on three different teams since he was drafted by the Browns in 2012 and didn't take a snap in 2016.
The Titans will bring Weeden in as a third quarterback behind Matt Cassel and Mariota, to provide some veteran depth in case Mariota can't play Sunday against the Dolphins. How can someone pass up a career 57.9% passer who has a 31 to 30 touchdown to interception ratio?!

As with every quarterback signing a team makes this offseason, Colin Kaepernick's continued absence from an NFL roster will be brought up. However, in Tennessee, where the starting quarterback's ability to run is a weapon they utilize reasonably often (averaging five carries per game) and the threat of him running off an option keeper is built into some run plays, the eyebrow raising when someone like Weeden is signed over Kap is even more justified.
We admittedly do not know what Kaepernick is looking for out of his next NFL job (if he ever gets one). He could be holding out for a possible starting job or feel comfortable sitting out the season to enter a quarterback competition next summer. In that case, he might not have been an option for the Titans, but with reports coming out that there were four quarterbacks Tennessee looked at and that list still didn't include Kap, it certainly doesn't look like they even considered him.
Anyone that's been a fan of the Browns or the Cowboys or the Texans can tell the Titans exactly how things will go with Weeden, and, whether they match up with reality or not, the optics continue to look bad for the NFL as Kap gets passed up again.