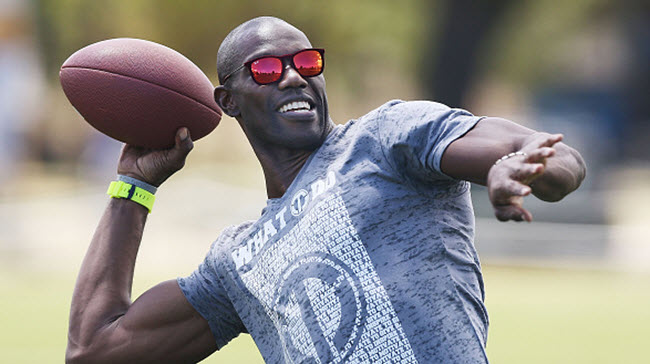 Terrell Owens hasn't played meaningful football in five years. He is 41. On Oct. 25th, 2011, following recovery from an ACL tear, Owens held a televised workout for NFL teams. No one showed up.
Despite that, despite having not played organized football since 2012, the former NFL wideout thinks he can contribute. And not only that, he wants a shot with his old team, the NFC East leading Dallas Cowboys. Step aside Dez, looks like you got some competition.
/fart noises
In an interview with Rich Eisen on Sept. 21, Owens talked about a possible return and his "fractured" relationship with Tony Romo and Jason Witten.
"Time has passed and hopefully they know that I've moved on beyond that. But for me, it's all about giving myself and opportunity. That's all I ever wanted."
On Wednesday TMZ caught up Owens and asked him again if something was going down with the Cowboys.
"I haven't heard anything as of yet … but that's not to say that anything can't happen."
This is all just very sad. Someone needs to break the news to Mr. Owens that he's straight-up delusional. And someone needs to do that soon lest he go to an NFL practice and got knocked into oblivion by a hungry rookie linebacker.