Bill Polian has strong opinions about what it takes to make the Pro Football Hall of Fame, and apparently being one of the best wideouts of all time just isn't enough these days.
Polian — who was inducted into Canton in 2015 — is making a habit of downplaying Terrell Owens' Hall of Fame resume after the wide receiver absurdly missed the cut for induction for the second straight year.
The former general manager of the Buffalo Bills and Indianapolis Colts, who now spits takes for ESPN, had some harsh words for Owens. He said he's been told Owens is a "cancer" and lives up to his reputation as a me-first player who never won it all.
"I think the Hall of Fames are for people who make their teams better, not who detract from them," Polian said. "What did Owens do that made his teams better? He put up a lot of numbers. Bill [Parcells] said that he was a disruptive force. Jerry [Jones], who's probably one of the most easy-going people when it comes to disruptive guys, got rid of him. I've gotten texts from people in Philadelphia responding to the campaign saying, 'This guy was a cancer and destroyed our football team.' How does that square with the Hall of Fame?"
I'm not sure exactly which team Owens destroyed in particular, other than defenses on the other side of the ball. He made San Francisco a powerhouse and helped lead Philadelphia to a Super Bowl in his first season with the Eagles.
While his antics were at times a distraction, he came through on the field, most famously in a remarkable Super Bowl XXXIX effort where he put up nine receptions and 122 yards against the Patriots six weeks after tearing a ligament and breaking a bone in his leg. If Donovan McNabb doesn't vomit away the Eagles' final drive, it goes down as one of the most incredible performances in Super Bowl history, and still should despite the loss.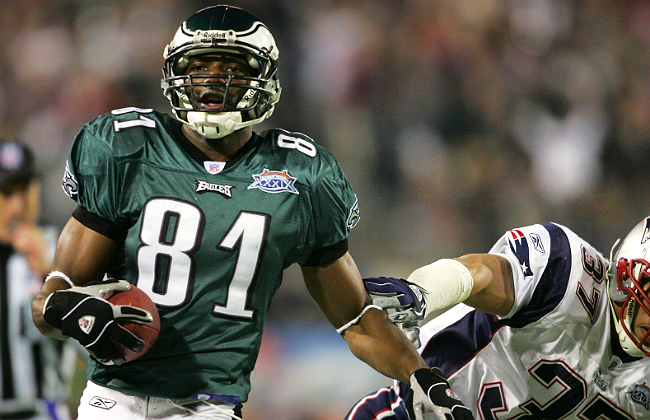 Owens has called this kind of talk hearsay in the past, which seems to be a valid point. There aren't a lot of his actual former teammates jumping up to say bad things about him publicly. And none of these arguments against him mention his most controversial action — implying former teammate Jeff Garcia was gay in a Playboy interview. It's not like these are voters taking moral stands on the basic human decency not to out someone here — they're just older Football People who get rubbed the wrong way by Owens, vaguely claiming they get text messages that say the wideout wasn't a great locker room guy.
This is actually the second year in a row Polian has claimed Owens isn't worthy of the Hall of Fame. He told the same show last year that "the Hall of Fame ought to be for people who make their teams better, not for those who disrupt them and make them worse."
Owens quickly shot back at Polian on Monday, calling him a "grumpy old guy" and defending his reputation and 15-year NFL career.
He then turned the tables on Polian, pointing out that his last few seasons as general manager of the Indianapolis Colts didn't exactly go so well.
After a bit of a tweetstorm, Owens posted a video to clarify that he's not even mad, in fact he thinks all of this is very funny.
Owens is trying to walk a narrow line here after calling out other players — wide receivers in particular — for lobbying themselves into the Hall of Fame. He famously said Cris Carter begged his way in, and insisted he won't do the same. He definitely isn't shy, however, about calling out people he thinks are hurting his chances at induction.
The problem with the Pro Football Hall of Fame is that if the sportswriters that covered you don't particularly like you, they won't work for you. And if they do like you, they'll lobby your case long after they stop writing about sports altogether. Owens in particular played in San Francisco, Philadelphia, Dallas, Buffalo and Cincinnati before he retired. If no writer based where he played the majority of his career and found the most success — namely San Francisco or Philadelphia — wants to defend him on Super Bowl weekend, he's going to need a lot of writers suddenly changing their minds about his reputation.
Yahoo's Shutdown Corner points out that Polian doesn't just think T.O. isn't a Hall of Famer, but he also claims that Randy Moss isn't, either.
"First of all, here's my position: [I want players who] contribute both individually and to the team," Polian told the Talk of Fame Network, via Yahoo.com. "T.O.'s situation, T.O.'s temperament, his ability to contribute to the team was well known up front. He was going to be a problem. We did not want to deal with problem children. Others may. We didn't.

"That's number one. Number two, every year in Indianapolis we said the following: 'The price of admission is 100 percent effort all the time in everything we do.' Well, how can we take Randy Moss when we make that statement? It's that simple."
Lumping Moss into the same "problem children" group as Owens isn't a good sign for Moss' own Hall of Fame considerations, which begin later this year. But all of it is absurd. What is the Hall of Fame for if not the game's greatest players? It sounds like Polian is still thinking like a general manager, but it's not like they're going to assemble a team out of old men in gold jackets and he needs to worry about team chemistry in the old dude locker room.
It's common to see sportswriters dishing out some arbitrary punishment for the less-than-warm treatment they received in the locker room from star athletes over the years in their Hall voting. Hearing the same dog whistle words like "temperament" from a former general manager who simply thinks a newer generation didn't "play the right way" seems even more absurd.
If "temperament" is really something that can keep you from a gold jacket and enshrinement, fine. But it's really the only thing keeping these players out of the Hall, because the numbers — for both Owens and Moss — clearly add up to a bust in Canton.