Ishihara is a fan of three things. Money. Women. And knocking dudes out cold. #UFCSLC https://t.co/dzEAjsWl20

— FOX Sports: UFC (@UFCONFOX) August 7, 2016
Teruto Ishihara is a star in the making. The guy is the second coming of Sexyama. The featherweight has made no secret that his love of women and money is why he's out there, knocking people out. He's also made it known that he's bringing sexy back to the Octagon. But Teruto is capable of blowing the minds of men and women with his special brand of violence, as well as his looks.
Check out this photographer's reaction to that wonderful, brilliant counterstrike: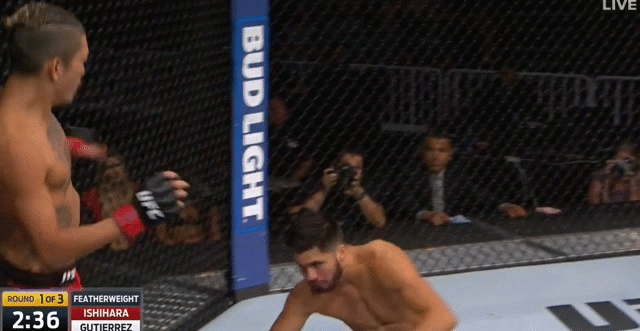 And on the other side of the fence, this was Ishihara's reaction to that wonderful, brilliant counterstrike:
Ishihara is now 2-0-1 in the UFC with two violent finishes (as well as a draw against Mizuto Hirota, which just makes sense if you've been following Japanese MMA). There's something about this dude, like he's the sexy Japanese Conor McGregor, and his ever-growing highlight reel is proving that he's a must-watch fighter.
So where does he go from here, beyond the club where he's sure to dance the night away? Probably to the UFC's featherweight top 15? Or does he need a few more wins?